July, 25, 2010
07/25/10
4:06
PM ET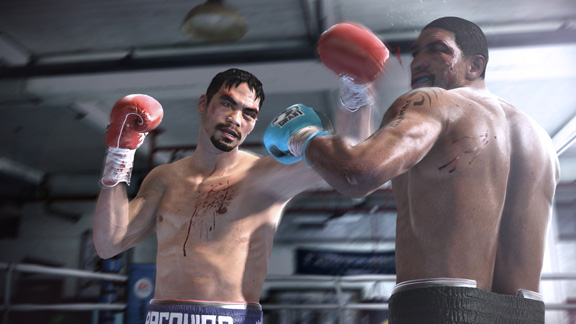 EA SportsThe brutality of boxing comes alive with EA Sports' "Fight Night Champion."
The blood splatter across Manny Pacquiao's chest is an image I can't get out of my mind. EA Sports debuted the picture on Tuesday on a full-sized movie screen during a media briefing, and the graphic horror and the thoughts of what must've just happened in the ring stayed with me the rest of the night.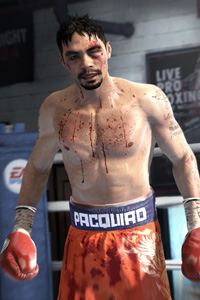 EA SportsFight Night Champion.
The Pacquiao photo is from the newly announced "Fight Night Champion", a boxing game in development at EA Canada and scheduled for release in 2011 for the Xbox 360 and PlayStation 3. After the disappointing sales of EA's "Fight Night: Round 4," it looks as though the game is boosting the violent imagery in hopes of upping the shock value, saying in the briefing that "Champion" will tap into the darker side of the sport with scenes of added brutality while at the same time "redefining the single player journey for the category."
According to EA, the game will also feature "a refined physics-based animation system that incorporates improved locomotion, punching and stamina mechanics. 'Fight Night Champion' will enable users to move, attack and dodge with the speed and power of the best champions, contenders and pretenders in the world of boxing. In addition, an all-new control scheme, dubbed Full Spectrum Punch Control, will deliver the most realistic punching system ever seen in a simulation fighting game, while still delivering an accessible experience that will make 'Fight Night Champion' the most user-friendly title in the franchise's history."
Now, if only I can see the fight that left this much blood on Pacquiao. And it makes me wonder, if Manny looks like this, how ugly is the other guy?
ESPN ARCADE
The sequel to our most popular game is here. How's your return?

Run timed routes, beat DB's to the end zone and score.

Hit your receivers, dodge defenders and rack up TDs.