August, 18, 2010
08/18/10
3:47
PM ET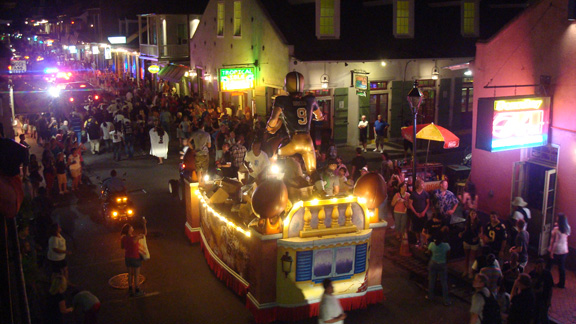 EA SportsSandy Sandoval has seen "Madden" release parties grow from hotel room gatherings to city-wide celebrations.
If you read Patrick Hruby's article on the history of the "Madden" franchise, you probably remember reading about some Sandy Sandoval character. If you didn't read Hruby's article, this excerpt should sum it up for you: "'Madden's' secret weapon? A man named Sandy Sandoval. Officially, Sandoval is the Director of Athlete Relations for EA Sports; unofficially, he's the games answer to World Wide Wes and Winston Wolf -- part fixer, part bon vivant, the guy who helped give the game its inimitable pro football cachet."
EA Sports recently took over the city of New Orleans to celebrate the release of "Madden NFL 11" with an over-the-top celebration dubbed "Madden Gras." I was able to sit down with Sandy for a quick interview.
Connor Nolte: You've been called Madden's secret weapon and compared to World Wide Wes. How would you describe your job?
Sandy Sandoval: (Laughing) My primary function is, I'm out there looking for the latest upcoming talent, building relationships with them, whether it has to do with "Madden", "NBA Elite", "Fight Night", or "NHL Hockey". So, I'm out there like a scout, making recommendations. When we get to the point of who we want to execute for the cover, I usually go in there and knock that deal out. You know, there's a lot of other stuff that goes on behind the scenes that a lot of people don't know. I'm responsible for signing all the boxers for the "Fight Night" games. For the NFL and NBA, there is group licensing. With PGA and "Fight Night", we have to go [sign] these guys individually. So, in order to get a good deal of it done quickly for EA, usually that's where I come in. I've built relationships throughout the years with these guys, so I'm able to get things done a little bit quicker than maybe the normal guy that's out there doing some sports marketing stuff.
CN: You have a sports background. Can you share some of that and how you started working with EA Sports?
SS: I played baseball, and when I left the game of baseball I went to work for a company called Easton Sports. I worked for them for quite a while and that's where things started out for me. We were doing football, we were doing hockey, we were doing professional and college baseball and women's softball.
When I started out there I was a big sports fan. I lived in the Bay Area, so I was a big 49er fan. I knew everything about Joe Montana, Jerry Rice, Ronnie Lott just because I read up on them from the Super Bowl days. But all of a sudden, I'm thrown out there where I'm actually working deals for these guys. Being from the Bay Area I didn't know much about hockey, the Sharks had just gotten into town, but one of my clients was Wayne Gretzky. I knew Alex Rodriguez when he was 19 years old. I'm just learning on the fly with all these guys. When I first started, I just worked to build those relationships. So by the time I left Easton and went over to EA, I just moved those relationships right over to EA Sports. I was able to get a lot of these deals done pretty quickly and cheaply and it benefited EA.
ESPN ARCADE
The sequel to our most popular game is here. How's your return?

Run timed routes, beat DB's to the end zone and score.

Hit your receivers, dodge defenders and rack up TDs.