August, 18, 2010
08/18/10
4:02
PM ET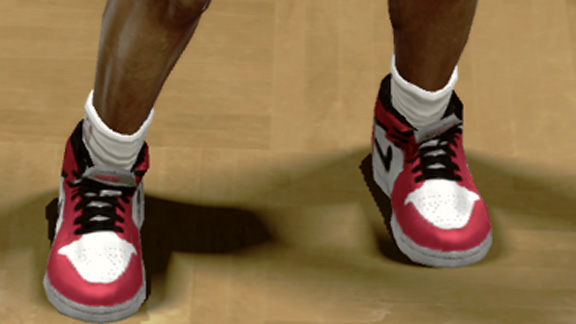 2K SportsThey might be devil colors, but these shoes completely changed the game.
When Michael Jordan was first announced as the "NBA 2K11" cover athlete, gamers celebrated the return of the greatest player to ever lace up a pair of kicks. Sneaker heads, on the other hand, only wanted to know what pairs of kicks virtual MJ would actually be wearing.
That's because in past "NBA 2K" games, Nike has only allowed 2K Sports to feature a select few pairs of Jordans per title.
But now that the game is all about His Airness, the kick floodgates have finally been opened.
"There are two legacies of Michael Jordan, his playing and his brand," explains "NBA 2K11" producer Erick Boenisch. "And for this game, the Jordan brand guys at Nike were finally asking for us to incorporate all of their shoes into our game. This is something we wanted for years, so we were really excited that this year with Michael, they really got on board with us.
"We have so many shoe heads into our game that when we put out our first trailer for 'NBA 2K11', people were doing freeze frames and capturing screen grabs of the Space Jam shoes he has on in the video. They cut out Michael entirely and put a little box around the shoes to show off that the Space Jams are in the game. All I have to say is people like this are going to be so happy this year."
That's because as gamers play through "NBA 2K11" they will constantly be rewarded with new pairs of cyber shoes. There are 40 shoes total in the game including 25 pairs of Air Jordans along with the CP3s, Melo 5s, and other shoes from the Jordan line to fill out the closet. But it's not about scoring 80 points in a game or grabbing 22 rebounds in order to unlock certain pairs. It's all about time invested.
"The way they unlock is every couple of hours you get a new pair," explains Boenisch. "The shoes also have attributes on them, so this becomes really beneficial both in My Player and MJ Creating a Legend mode. And shoes can be unlocked anywhere in the game, whether you're playing online or franchise or practice mode. Your timer is always running and shoes are always unlocking.
ESPN ARCADE
The sequel to our most popular game is here. How's your return?

Run timed routes, beat DB's to the end zone and score.

Hit your receivers, dodge defenders and rack up TDs.