August, 25, 2010
08/25/10
8:48
PM ET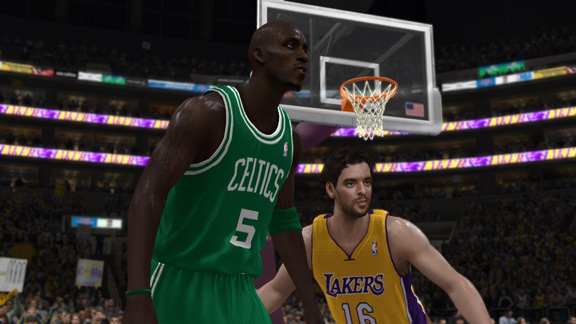 EA SportsCreate a character in "NBA Elite 11" and you could be the next KG ... or even better.
In its first year, can "NBA Elite" really contend with the juggernaut that is "NBA 2K11"? If EA Sports hopes to make a dent, they need multiple gameplay modes to really breakthrough and become hits, both online and offline.
Luckily for EA, the producer of "Elite" think they have those hits (and the gameplay to match) with online leagues known as the EASBA (EA Sports Basketball Association) and an offline single-player experience called Become Legendary.
"The whole concept behind Become Legendary is that you take a unique path in order to become a unique type of NBA legend," explains producer Sean Campbell. "We're trying to capture the feeling of working your way into the NBA and being able to create your own type of legendary NBA career, not based on expectation of tradition. If you're a point guard, you don't necessarily have to play like a traditional point guard. You don't have to get assists, steals, and be a good free throw shooter to progress through the mode. If you want to be a legendary point guard who wins the scoring title and rebounding title, you can do that. If you want to be a center who focuses on three-point shooting, offensive rebounding, and steals, you can do that. It's the idea of becoming a legend in your own way."
The mode starts out in a game called The Jordan Brand Draft Showcase where your created character gets to play alongside and against some of this years best rookies. It's a single-game event, and based on your performance, you're given an ESPN projected mock draft position. This game will also be available in "Elite's" demo, and if you play the demo, you will be able to carry over your draft position and your created character into "Elite" once you purchase the game.
"Based on your performance, you're drafted into the NBA, then you start out playing as a rookie in the league," says Campbell. "It's full customization from your face, tattoos, accessories, and shoes to your jump shot style and dunk package. And the one thing to mention with the shoes is you start off only being able to use the generic version, but as you progress through the mode, there are 23 legend levels that you progress through, and there are three levels that let you unlock packages of Jordan shoes. Level 5, for example, you become a member of the Brand Jordan team and are given some shoes. As you progress through the mode, you unlock more of the classic Jordan shoes that you can then put on your character."
As you play through the mode, your character is rated every game on his offense, defense, and team play. Adds Campbell: "So while you're free to play whatever style you want, like a shoot-first point guard, the team play grade holds you accountable to your team and forces you to play good basketball. Then every time you reach a specific statistical threshold, like collect 10 assists, you gain a statistical level. So you can try to be the next Dennis Rodman and try to fill out all of your rebounding levels if you want, or you can spread out your stats and try to be more versatile. Hopefully this encourages users to create their own type of player as nothing is based purely by position. There are also points given for awards like end of season championships and winning stat categories as well as individual game performance like a triple double (this is called leaving your fingerprints on the game). For example, to reach Level 22, you're going to need around 2,000 award points. So if you want to be like Allen Iverson and win the scoring title but not win any championships, you can do that. Or you can be the role player who just hits threes but wins nine championships and still become a legend. The idea is you can combine your statistics and your awards in infinite ways in order to progress through the mode."
ESPN ARCADE
The sequel to our most popular game is here. How's your return?

Run timed routes, beat DB's to the end zone and score.

Hit your receivers, dodge defenders and rack up TDs.