September, 16, 2010
09/16/10
12:17
PM ET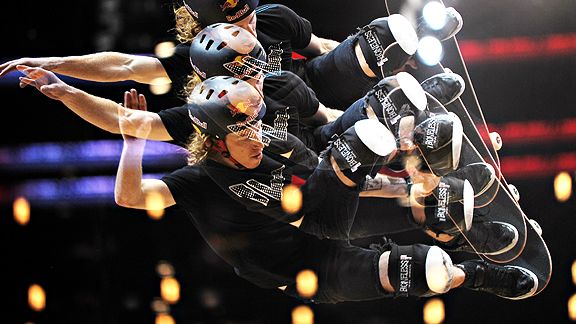 Robyn Beck/Getty Images"Shaun White Skateboarding" ships to stores Oct. 24 for the Xbox 360, PS3 and Wii.
Shaun White says his dream was always to be a professional snowboarder and skateboarder. So it should come as no surprise that after helping with the design of a popular snowboarding game for publisher Ubisoft, his next area of focus for virtual action would be to design his own skateboarding game.
Then again, the surprise might be the design of the game itself. "Shaun White Skateboarding" drops gamers into a story-driven, colorless world in which skateboarding has been banned along with any type of emotion. As you skate, you literally add color to the world while helping shape the environment around you. Hop on a rail and you can actually extend it in any direction for a seemingly endless grind as you go. See an object on a roof, and use the rail to reach it, then morph the rooftop into a ramp and try to make it to an even higher platform. The creation is all performed on the fly and is entirely up to you.
"I still can't believe Ubisoft pays me to make video games," Shaun White told me with a laugh when we met in his suite at the swank Standard Hotel in downtown Los Angeles. "It's bizarre, because I never understood what went on behind the scenes with the programmers and the sections of programmers where this one group just focuses on the colors while this other group works on the physics of the characters and how everything looks. It's amazing to see how much work actually goes into it.
"When I was younger, I was in a video game as a character ['Cool Boarders 4'], but it was awful. My character didn't look anything like me, and it was just lame. I never had something where I was pleased with the outcome. So then it dawned on me that I had no input. I was just like, 'Cool, you put my character in the game and you do the voice for me.' But this time around it has been awesome. My first game with Ubisoft came out around 2008 and we were able to start over. It's my voice, it's my music and this is the stuff I want to see and hear in the game. And the game is amazing. Then we did a special Wii version of the game last time around the Olympics that added some new tricks with the Wii Motion-Plus, and this time around it's awesome because we're skating," White said.
"Snowboarding games are tough because you're in the mountains and there are trees. But when you see a game like this where you're skateboarding, there is just so much more to it. You're in cities and schools and parks and you can definitely be more creative with the people you run into. It's not like Joe was just sitting here on the mountain and you run into him then he gives you a quest. I didn't want to just do another snowboarding game just to do it. We're doing something really different and next time it will be something different again. If you're ever-changing like that, you don't ever hit that dry spell."
Jon Robinson: What's more of your passion in real life, snowboarding or skateboarding?
Shaun White: It's tough. I've been snowboarding tons for the Olympics, so now, all I want to do is skateboard. I fractured my palm, I twisted my ankle [skating] ... it's been a good summer. [Laughs.] I've been skating a ton. I love it. When you're snowboarding, you have to go somewhere. You have to go to the mountains. Skating, you just go down the street, or in California, there are ramps all over the place.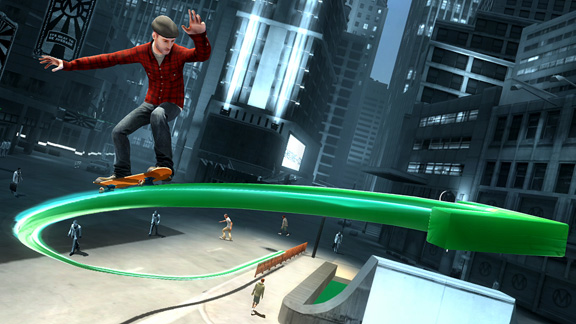 UbisoftSteer the rail wherever you want in White's innovative new game.
Jon Robinson: That's what I love about skating. I was at the Pacifica skate park one day with my son and Tony Hawk just showed up to skate with his son. It was pretty crazy because it's not like you could show up to some random basketball court and LeBron will show up to shoot around with you.
Shaun White: That's rad. It's funny because I was trying to explain that to someone the other day. We built this halfpipe out in the wilderness for me to train for the Olympics and nobody understood why we went to such great lengths. I was like, you don't understand. I was at this local skate park and this kid kicked his board out and it caused me to get 10 stitches in my ankle. There it is, your summer is done. But I love the fact that you're that accessible to your fans. That's the great thing about skating. When are you going to run into Kobe at your local court?
Jon Robinson: I always thought skateboarding was the more dangerous of the two sports, but then I saw you smack your face on the halfpipe in the Olympics. Which do you find more dangerous, skating or snowboarding?
Shaun White: Depends. Skateboarding is dangerous because there's concrete and there are so many variables going on, but snowboarding is just bizarre because the scale is so much bigger. That crash you saw me take, the wall I aired out of was 22 feet tall, and then I went up a good 15 feet or more, then hit my head. You're going so much faster, it's downhill, it's a whole different ballgame. People always say, "Hey, he skates and snowboards, it's the same thing." Not in the slightest. I'm the only athlete to ever do both sports competitively on the same level, but it's something I grew up doing, so it doesn't feel strange to me.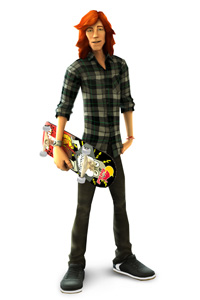 UbisoftWhite's Wii character render.
Jon Robinson: The premise of the game is some evil skateboard-hating group called the Ministry has taken control of the city …
Shaun White: Not so much skateboard-hating, but stuck in their ways. They just don't like change. They want everything to be in line, but we mess everything up by skateboarding. We thought it would be a fun scenario to have a mix between "The Matrix" and some sort of deeper vendetta movie where there's some sort of conspiracy and people are stuck in their ways. You don't know how they got there, but they're all there now. So you finally break through to one character in the game and it snaps them out of it and realizes what is going on. That's you. You're the character. We basically have me as someone who has been captured by the Ministry and you get my skateboard and go out and turn this black and white world into color. That's when the battle begins and the world starts to change.
What's cool is I feel like the first couple of games we did didn't have much story to them. You were just completing quests, but there wasn't much reason for what you were doing other than getting to the next spot. But this is a bit more story, a bit more fun, and we went to much greater lengths with the script. We hired a writer from "Family Guy" and while it's obviously not as raunchy, there are some funny moments and some really cool stuff in the game that normally isn't there. I don't want to just play the game, I want to experience the character and hear the jokes and laugh. And I can tell you, from making the first game to now, s---, I have a totally different mindset. I've tried to right the wrongs of the last games from the music to the script to the gameplay. I'm better in the voice studio, what I say is cooler in the game. It's rad.
Jon Robinson: What are some of the environment changes gamers can expect as they skate around the world?
Shaun White: It's cool to see this black and white world just start to dramatically change. The park bench that was black and white will now have some ridiculous thing written on it or we'll have this giant wall with a picture of the head Ministry dude, but right when you skate it, the picture will now have him with no pants on and my haircut. It's something totally different from before, and those small differences, those subtle changes really mean a lot in the end.
Jon Robinson: Obviously, this Ministry has a problem with skaters in the game, but why do you think so many people still hate skateboarders in real life?
Shaun White: Not as much anymore, but we're at your place or work and we're skating your ledge and it doesn't look as pretty once we start skating it. Who would want to be inside at your desk on a computer while you watch some kid outside on his skateboard having a blast? It would drive you nuts. I'd be that same dude, "Get out of here!" [Laughs.] I think it's just one of those things that adds to it. But I think you can definitely say that there are more skate parks now than there ever have been before.
Jon Robinson: Do you think these skating video games have helped the sport go more mainstream and helped skateboarding and skateboarders become more accepted?
Shaun White: It helps you get to know people. If you see an interview of mine, then you watch me compete, then you watch "60 Minutes" and you see my family and my story, I think you grow a connection to people. You think a great football player is a cool guy, then you see him talk and he's talking about something important and what you care about, and you might grow a connection. And it's that connection to the skaters that I think is really helping the sport to take off. The fact that it's a culture as well, the way we dress, the way we go about things. It's also a generation thing. Tony Hawk and all the guys of that era are now fathers and they're still into all of this stuff, so now their kids are into it too. I started when X Games first started and now I have two Olympics under my belt. It's crazy to think about.
ESPN ARCADE
The sequel to our most popular game is here. How's your return?

Run timed routes, beat DB's to the end zone and score.

Hit your receivers, dodge defenders and rack up TDs.