September, 16, 2010
09/16/10
12:19
PM ET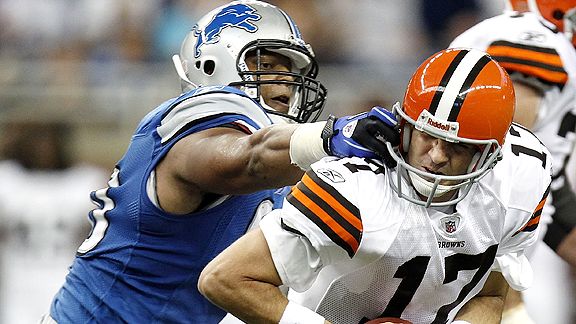 Gregory Shamus/Getty ImagesNdamukong Suh is bringing the pain for the Lions, both in real life and in "Madden."
When Lions rookie Ndamukong Suh violently slammed Browns quarterback Jake Delhomme to the ground in what might be the most memorable highlight of the preseason, the aggressive, I'm-about-to-make-every-quarterback-cry type hit looked more like something out of "Mortal Kombat" than "Madden."
But to Suh, when it comes to playing video games, he fell out of touch for a few years after the Super Nintendo days. "I used to love games like 'Mario Kart' and 'Tecmo Bowl,'" he says, "but then I didn't really play again until I got to college and was in the 'NCAA Football' game. When you're in high school, you can't wait until you get in the college game, then when you're in college, you're playing, but in the back of your mind, you can't wait until you see yourself in 'Madden.'"
And now that Suh is throwing virtual quarterbacks around like rag dolls (or little Delhommes), he has advice for how he wants to see his character portrayed in future games. "As long as my character is super fast, super strong, athletic, with an agility rating of a million, I'm happy," he says with a laugh. "I actually think video games are a great depiction of what really happens and how we play on the field.
"When I get a chance to hang out with my friends, we definitely play video games, whether it's 'NCAA,' 'Call of Duty,' or a little 'Madden.' It's a surreal feeling to actually be in 'Madden' after all these years. The thing about the 'NCAA' game is that they have all those rules where they couldn't have your likeness in the game. Now in 'Madden,' that's finally me making the sack."
And if Suh keeps treating quarterbacks the way he did Delhomme, "Madden NFL 12" might need to add a new rating category -- viciousness.
Cyber quarterbacks beware. Suh is in the game, even if his agility is off by 999,923.
ESPN ARCADE
The sequel to our most popular game is here. How's your return?

Run timed routes, beat DB's to the end zone and score.

Hit your receivers, dodge defenders and rack up TDs.