October, 12, 2010
10/12/10
1:08
PM ET
First time I met Venus Williams, she was playing "Grand Slam Tennis." And when I say playing, I mean she was up and moving, swinging the Wii controllers like a racquet, and genuinely looking frustrated if she hit the ball out of bounds.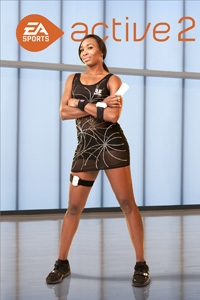 EA Sports
What she liked about the game, she told me, was that it got people off the couch and active. "It's not just about pressing buttons," she said. "You actually need to get up and move."
Now Venus is taking her talk about getting fit to another level with EA Sports as she is set to serve as a brand ambassador and spokesperson for the upcoming fitness game "EA Sports Active 2."
According to the EA Sports press release, the game "focuses on improving muscular strength, endurance and flexibility, while providing an intense cardio workout; it will combine a heart rate monitor and wireless motion tracking data to deliver a fitness experience that achieves authentic, measurable results."
And Williams sees the game, much like "Grand Slam Tennis," as a way to not only have fun, but to get up and move.
"What I love about 'EA Sports Active' is that it offers a variety of workouts that are both challenging and fun, which is important to keep me motivated," Williams added via press release. "I'm excited to be working with EA Sports to show others that you can be active and reach your fitness goals while having fun at the same time."
Look for the game/workout to hit stores November 16 for the Wii, PS3, and Kinect for the 360. "EA Sports Active 2" will also be made available for the iPhone and iPod Touch at a later date.
ESPN ARCADE
The sequel to our most popular game is here. How's your return?

Run timed routes, beat DB's to the end zone and score.

Hit your receivers, dodge defenders and rack up TDs.