November, 4, 2010
11/04/10
12:36
PM ET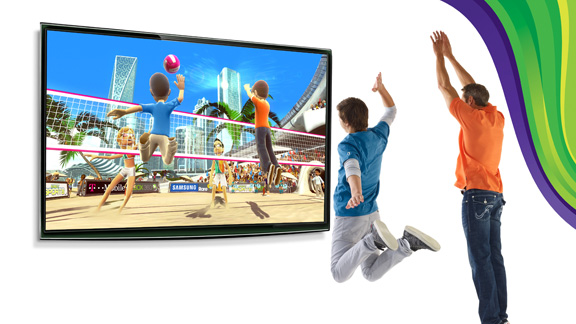 MicrosoftGamers will work up a good sweat playing "Kinect Sports."
Before Microsoft's Kudo Tsunoda looked to redefine video games with Kinect, he redefined sports gaming with the innovative controls introduced in EA Sports' "Fight Night" franchise.
"There's a great boxing game in 'Kinect Sports,' and I think you see a lot of the stuff we tried to do in 'Fight Night' actually coming much more into play now with Kinect," Tsunoda told me as I sat down with him at a recent Microsoft event in San Francisco. "What we did with 'Fight Night' was have you hit your analog stick out to the side and arc it forward so it looked like a hook. Now if you want to throw a hook in 'Kinect Sports,' you're throwing a punch, you're throwing a hook like you do in real life.
"I wish when I was working on 'Fight Night' that we had the Kinect technology. The stuff that we were doing in that game is now possible with Kinect. Before, you had to take that idea of fully-immersive, gesture-based controls, but you had to force it into that controller. I think people really enjoyed it, but if I had go back and creatively think how we should make a boxing game, having the Kinect technology would just be the real fulfillment of the original creative vision of those games. Anybody who likes existing sports games, anybody who loves great multi-player and trash talking, that's exactly what we have with 'Kinect Sports.' Soccer, boxing, beach volleyball, table tennis, bowling, track and field ... games that are fun to play by yourself, but are incredibly fun multi-player as well. It's super-fun, competitive sports action."
And after playing Kinect for over a week straight now, I can say that Tsunoda is exactly right. If you thought the Sony Move looked like Wii 2.0, then Kinect is the Wii killer. I've been playing games like "Kinect Sports," "Kinect Adventures," and "Dance Central," with my wife and two kids virtually non-stop since the preview hardware arrived, and I have to say, it's been the most fun we've ever had gaming together as a family, and there isn't even a close second.
I mean, who can't help but laugh when your nine-year old son who has never danced a day in his life busts a move to Bell Biv DeVoe and now knows to never "trust a big butt and a smile"?
And Tsunoda thought the only thing Kinect would teach the kids was how to throw a better left hook.
Anyway, here's what else the creative director for what should end up being the hottest video game hardware this holiday season had to say about Kinect, the future of sports gaming on the system, and what it would be like scan the field in "Madden" by simply turning your head.
Jon Robinson: For sports gamers out there who might only go out and buy "Madden," "FIFA," and "NBA 2K" every year, what is it about Kinect that will help shape the future of sports gaming?
Kudo Tsunoda: There's the game side of Kinect, and then also the entertainment side of Kinect. And the game side, certainly, if you like playing sports, now you can actually go in and play the sports yourself. It's not using a controller anymore, so if you're playing a soccer game, you're actually kicking the ball yourself, or if it's a boxing game, you're punching with your own fists. I think it makes the sports a lot more engrossing and a lot more immersive to play.
The interesting thing about Kinect is that video games are starting to teach you now how to do things, not just in the game, but in real life as well. That's the stuff I think about with Kinect sports titles. They actually teach you how to play the sports that you're playing in the video game. So instead of just playing an existing video game where you might learn about the sport, with Kinect, you can actually learn how to play the sport better.
ESPN ARCADE
The sequel to our most popular game is here. How's your return?

Run timed routes, beat DB's to the end zone and score.

Hit your receivers, dodge defenders and rack up TDs.