November, 19, 2010
11/19/10
1:04
PM ET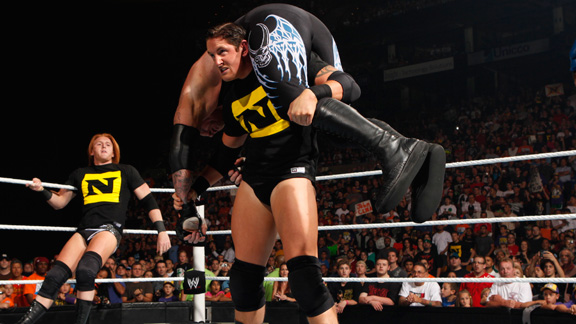 WWEWade Barrett had a strange trip from lab worker to WWE superstar to video game character.
Wade Barrett is just your typical marine biologist turned bare-knuckle brawler turned WWE heel?
"I've had a really strange path to WWE, that's for sure" Barrett says with a laugh.
That's right, before Barrett was turning heads as wrestling's breakout star of 2010, he was the largest lab tech in England.
And like his road to success, Barrett's rise through the ranks of the WWE elite has been anything but typical.
In a matter of months, Barrett and his Nexus crew rose from rookies just trying to earn a shot on WWE's main roster to the talk of the entire wrestling world.
And this Sunday, Barrett gets his shot at the biggest prize of them all, the WWE Championship, as he takes on Randy Orton at Survivor Series.
While prepping for the main event, Barrett took time out to talk to ESPN about everything from his days working in the lab to what he learned from the veterans during Old School Raw to his downloadable character in "WWE Smackdown vs. Raw 2011." Here's what the baddest man in the business had to say.
Jon Robinson: How does someone go from a degree in marine biology to fighting in bare knuckles tournaments to the WWE?
Wade Barrett: I was always a WWE fan as a child and I fantasized about being a wrestler. But as I got a little older, I thought it was just a pipe dream, so I went out to get a degree and a normal job. So I started my degree at the University of Liverpool, got my degree and started working in a science laboratory. While I was doing that, I started bare-knuckles fighting as well in order to earn some decent money on the side. By then, I got a little older, and I felt with my size and my confidence and my fighting ability, it was something I could do if I worked hard enough. So I started wrestling independently in the U.K. and one thing led to another and I was offered a contract with WWE.
Jon Robinson: You must've been the most intimidating lab worker anyone had ever seen.
Wade Barrett: It's funny because when I turned up at the lab, they had to have a lab coat specially made for me. I was the biggest guy by far that they had ever seen. They had to get a coat with extended arms and widened in the back. It took them about four weeks to finally get me a lab coat. [laughs]
Jon Robinson: The crew from season one of NXT went on a wild ride from this side show in the WWE Universe to becoming the biggest thing on Raw. When did you first know the plans to make you guys all one group?
Wade Barrett: It was something that we found out about literally when we got to TV that afternoon it happened, then we ran with it from there. We found out about five hours before we went live on air. They kept us in the dark as the WWE tends to do.
Jon Robinson: When did you first realize how big the Nexus could become?
Wade Barrett: When we were coming up with the plan before the show, I realized it was something the fans had never seen before. When we were going to trash the ring, I realized it could have one of those big impact moments that occasionally happen within WWE. But I was never one hundred percent just because I had seen the ring broken down and smashed up so many times -- when you're in the independents, you have to set the ring up and take the ring down -- so to me, it didn't look that incredible. But then when you take it from a fan's perspective, they don't see that. They don't see the ring with the ropes hanging down. They don't see the wood exposed. So when we were done smashing the ring up and walking out, that's when I realized that every single person in the crowd was on their feet. Nobody was chanting anything. Nobody was shouting. They were just gobsmack with their mouths open in stunned silence. That's when I realized we had just done something pretty incredible. Then when I got home the next day and watched it on TV, I was able to see more of the crowd reaction and see the bewilderment on people's faces. That's when I knew we had done something special.
Jon Robinson: What has been the most surprising aspect of your instant celebrity status?
Wade Barrett: I don't know if I'll ever get used to walking into the local shop or a local restaurant and having three or four people recognize me. I actually went to the gym yesterday, but on my way I had two stops, and at each of these stops, I had people driving past me and shouting things at me. They were yelling things about Nexus and WWE, and I was recognized the instant I stepped foot out of my car and headed to the bank. Then I headed off to the supplement store, and again, as soon as I got out of the car, people were shouting at me. It's very strange for someone like myself who a year ago was a nobody. I was a developmental wrestler who nobody has ever heard of. Now I'm stepping out of my car twice in the span of 15 minutes and people are shouting as they drive past. I don't know if it's something I'll ever get used to.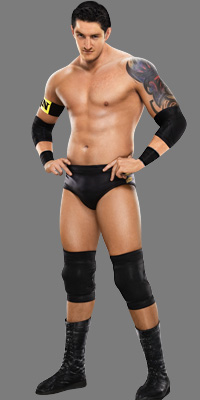 THQBarrett's new character model in "WWE SvR 2011."
Jon Robinson: Nexus is getting the kind of response we haven't seen since the days of the NWO. Give me your take on a dream match, Nexus versus NWO. What happens?
Wade Barrett: Those guys are mostly of the retirement age now, so I think we could beat them quite easily. [laughs] But back in their day, I think it would be a pretty interesting fight. Those guys would have us on experience but we'd have them on youth and speed and that sort of thing. I'd go with the Nexus.
Jon Robinson: One of the perks of being in Nexus is the inclusion in the new "WWE Smackdown vs. Raw 2011" video game. Your character will be downloadable character in the near future. Have you seen it yet?
Wade Barrett: I saw the one that they put on TV as part of the commercial, but that wasn't the actual character. That was made very quickly as part of the commercial and it didn't actually look anything like me. I was pretty pleased when I found out that wasn't the character you'll see in the game. I'm told that the new character model looks exactly like me so I can't wait to see it. I love what they did with the other characters like Sheamus and John Cena and Randy Orton. They all look quite realistic. This is my first appearance in a video game so I'm really excited to see it.
Jon Robinson: How important has it been working with John Cena and getting the instant rub his popularity provides?
Wade Barrett: I think being a bunch of new guys, it was very important for us that WWE put us instantly in that top level in order to establish us. If we had gone in and formed the Nexus but then attacked someone who was further down the card, then it would've put us at that level. The fact that I'm competing with John Cena and Randy Orton and The Undertaker, they have me at that main event level so now that's how people view me. I'm even competing in the main even this Sunday at Survivor Series. It's important for WWE to create new stars and bring the business forward and setting things up for the future by giving guys like myself and Sheamus these main event opportunities.
Jon Robinson: This week was Old School Raw. What was it like being on Piper's Pit and interacting with all of the greats who were on the show?
Wade Barrett: It was incredible. I felt very lucky that I not only got to be on Piper's Pit and work with Rowdy Roddy Piper who I feel is one of the best promo guys in the history of the company, but I also got to get interviewed by Mean Gene Okerlund who is another favorite from my childhood. I was a huge fan. It was great to meet so many of the legends and listen to how they think I'm doing. Obviously, I was a huge fan of them as a child so it was really cool to meet them. I thought it was a great show as well. It was something very different for the fans and the feedback has been so positive I imagine you'll see something like that again.
Jon Robinson: Did any of the legends give you advice on your career that has stuck with you?
Wade Barrett: People have been very positive about what I've done in the past. They just told me to keep working on it, keep improving, and make sure I don't get comfortable. The moment you get comfortable is the moment you get stagnant, so I want to make sure I keep evolving. I know I'm very early in my career with WWE and I have a long way to go so I just want to be as good as I can be. I really want to keep developing and get to the point where I'm at my absolute best. That's the piece of advice I took away from the legends.
Jon Robinson: Who was your favorite wrestler growing up?
Wade Barrett: The British Bulldog. Davey Boy Smith was the guy I idolized as a kid in England. It was great to see him go to the States and do so well. But I also liked guys like Bret Hart, Mr. Perfect, Rick Rude, The Legion of Doom, and The Ultimate Warrior. There were a lot of guys I was a big fan of, but number one was definitely The British Bulldog.
Jon Robinson: You liked Davey Boy Smith better than Dynamite Kid?
Wade Barrett: Well, Dynamite was slightly before I started watching WWE. I started watching WWE in about 1991 when I was 10 years old. That's when Dynamite had left. It wasn't until I got a little bit older that I started watching some of the older tapes and saw how incredible Dynamite was. Now I'm a huge fan. He was an incredible performer and he was very influential, but at the time when I was a kid, Davey Boy was my boy.
Jon Robinson: Besides yourself, who do you think is the breakout star of Nexus?
Wade Barrett: I think there are a few, actually. Husky Harris and Michael McGillicutty are a little early in their careers with Nexus to judge them. I think if you look at someone like Justin Gabriel, he is somebody who is very exciting with his moves and athleticism. Heath Slater and David Otunga are both very charismatic people, and I think Heath in the ring is one of the best out of the Nexus. He's incredibly talented in the ring. Then when you look at Otunga, he has some great promo skills, a lot of charisma and attitude. I think everyone in the group has their strengths. It's up to each of those guys who I mentioned to work on their weaknesses. The thing that is holding these guys back is that they have obvious strengths, but they have obvious weaknesses as well. Once they start working on those, they'll be able to step up to the next level.
Jon Robinson: Are you disappointed Daniel Bryan is no longer in the group?
Wade Barrett: Daniel Bryan is a great performer and is somebody who I have great respect for, but I don't think he was right for the Nexus from the beginning. I think it was for the best that he was out of the group to be honest with you.
Jon Robinson: Plus, with him out of the group, it can lead to some cool matches between the two of you down the road.
Wade Barrett: Yeah, he's somebody that I'd really like to work with. He's a great performer who has a lot of experience. I always like to work with people who have more experience than me. That means I can work off of them. Daniel Bryan is someone who I definitely think I can have good matches with. I've locked horns with him once before in a singles match on NXT, but he was busted up at the time with injured ribs so the match didn't go very long. But I'd definitely love to work with him in the future and I think we will, especially with his history with the Nexus and the fact that we kicked him out. In the future, I definitely see myself and him having some sort of feud.
ESPN ARCADE
The sequel to our most popular game is here. How's your return?

Run timed routes, beat DB's to the end zone and score.

Hit your receivers, dodge defenders and rack up TDs.