December, 15, 2010
12/15/10
3:09
PM ET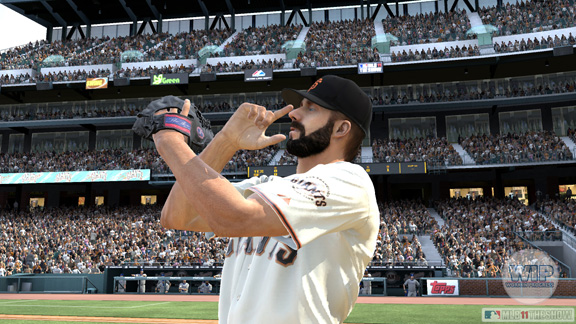 SonyBrian Wilson's trademark beard (and celebration) have made it into "MLB 11: The Show."
Fear the beard.
That's the rallying cry that led the Giants to their first World Series title since moving to San Francisco. And as a guy who grew up going to games at Candlestick with his dad, the virtual collection of misfits and (more importantly) champions was the first thing I wanted to see when I turned on "MLB 11: The Show."
And I wasn't disappointed.
From Brian Wilson crossing his arms into an X and pointing to the sky in celebration after a save to the way Tim Lincecum's hippie hair flaps in the wind to Pablo Sandoval's quirky walk-up animation to the cyber kayakers in McCovey Cove, the Giants received an overhaul worthy of their new status as diamond kings.
Only thing missing is a cheat code to unlock The Machine.
Then again, "The Show" is rated E for everyone, so Brian Wilson's masked sidekick will need to stay in the background for at least another year.
But don't think the team at Sony's San Diego studio stopped at just upgrading the champs. "MLB 11: The Show" is anything but a roster update with a few new custom animations thrown in to fool consumers that this game is something new. In fact, this might be the biggest jump in terms of both control and game-play enhancements the series has ever attempted in a single year.
"People ask me what I do in winter when there's no baseball. I'll tell you what I do. I stare out the window and wait for spring." -- Rogers Hornsby
The biggest change to the game comes with the addition of pure analog control. That's right, buttons are about as hip these days as players wearing stirrups, so Sony has finally changed the control scheme for hitting, pitching and throwing to be all analog-based (although if you want to play old-school and use buttons, you can still find last year's controls in the options menu).
"This is the feature everyone has wanted in our game for years, but we didn't want to do it until we could do it right," says longtime "MLB" producer Chris Gill as he sits down to demo the game for me inside Sony's San Diego studio. "People have been asking for a new way to play the game, and now everything you do, whether you're swinging the bat, throwing to first or pitching the ball, it's all done with the right analog stick."
ESPN ARCADE
The sequel to our most popular game is here. How's your return?

Run timed routes, beat DB's to the end zone and score.

Hit your receivers, dodge defenders and rack up TDs.