February, 22, 2011
02/22/11
12:39
PM ET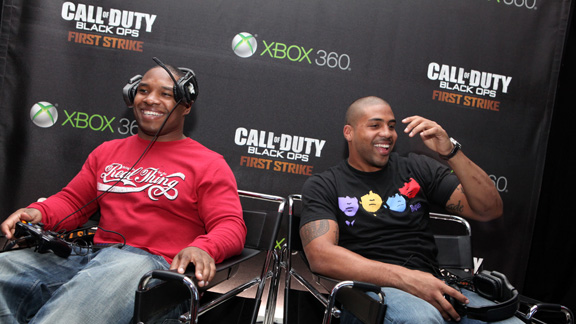 ActivisionMaurice Jones-Drew and Arian Foster spend the day dodging polygonal bullets in "Black Ops."
"You get to shoot people without really shooting people," Texans running back and "Call of Duty" fanatic Arian Foster says with a laugh about his love for Activision's popular video game franchise.
Foster spent the day getting to know the game's developers. He and fellow "Call of Duty" obsessed running back Maurice Jones-Drew met at the Treyarch studio in Santa Monica, Calif., to feed producers ideas about the future of first-person shooters, while at the same time taking shots at each other in the new "Black Ops" First Strike maps that were released earlier in the week.
"What I love about 'Call of Duty' is the fact that it allows gamers to compete against other gamers all across the world," Jones-Drew explains, talking about why he thinks the franchise has become such an overwhelming pop-culture phenomenon. "I have friends that I play with in Japan, I have friends that I play with over in London and I have a couple of guys that I play with from South America, as well. And getting to know all of these people from all over the world really gives you a different perspective on life.
"I just had knee surgery, so I've been on 'Black Ops' the last couple of weeks nonstop, just destroying people. I guess knee surgery has its ups and downs, but one of the ups is that I get to play video games without being yelled at by my wife, so it's all good."
So just how long is "nonstop" to MJD?
"I play for seven to eight hours," he admits. "I just play. I don't even worry about the time I sit in a dark room."
Foster says he also plays as much as he can, including his own eight-hour marathons. "It's part of who we are, part of our culture," he says. "We're just always playing video games."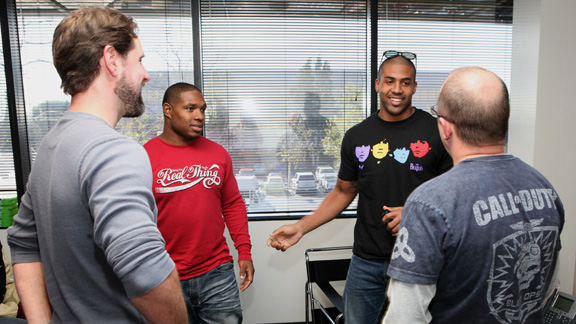 ActivisionThe players meet with the "COD" team to talk about the future of the franchise.
Foster and Jones-Drew aren't the only NFL players spending their days off glued to an Xbox 360. More and more there is becoming this underground gaming scene of professional athletes blasting each other at night with polygonal machine guns and grenades. From Brandon Lloyd and Dwight Freeney to Ahmad Bradshaw and Patrick Willis, gamers all over the world are leaving virtual holes in some their favorite athletes without even knowing it.
"One of my good friends is Matt Forte, so I play against the Bears a bunch," Jones-Drew says. "I also play against some of the 49ers."
And when players from around the league log on to shoot the map up, they all have their distinct playing styles and favorite weapons.
"I'm a runner. I'm on the ground putting in work," MJD boasts. "I hate snipers. Being from the Bay Area, I like to get into stuff. I can snipe, too, but sniping is boring. It's more fun running up on people and pulling out your pistol."
Foster agrees.
"I'm on the ground," he says. "I like the blood on my face."
It didn't take long for Foster to find someone from Treyarch to test his skills against.
"I was walking to the bathroom and saw some tester playing the game," he says. "I grabbed a controller and got a couple of kills right away, so I'm already putting those notches in my belt."
MJD is excited for the opportunity to help the franchise grow.
"I'm excited to test my skills against the guys who made the game," he says. "It's exciting to walk around the office and talk to them about the game and to give them ideas of where the series can go. It's an honor to just be invited down here."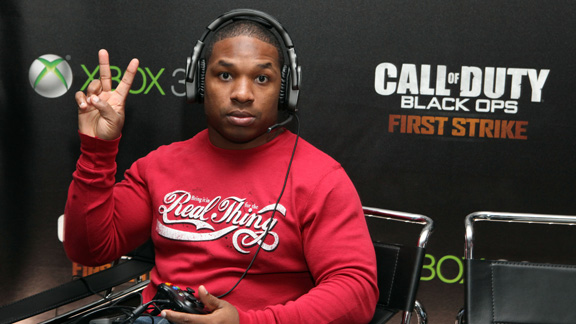 ActivisionMJD has proven himself once again to be the top gamer in the NFL.
With both players talking so passionately about "Call of Duty," it was only a matter of time before the two sat down for the ultimate grudge match, blasting each other with AK-47s and shotguns until only one running back was left standing.
In the end, Maurice Jones-Drew took the title of "Black Ops" champ.
"Did you even have to ask who was going to win?" laughs Jones-Drew, who adds the "Call of Duty" title to last year's Madden Bowl championship and now must be recognized officially as the best gamer in the NFL. "It's all about that killer instinct that I have. I'm the type of guy who might have a 20:18 kill ratio, but I'm cool with all that dying because at least I know when I die I'm taking somebody with me. I'm all about taking a person's will and just trying to destroy everybody who gets in my path. I don't care who I play, I'm the best. When I play, I just turn into a beast."
But Foster has no worries about the loss. Instead, he's already set his mind on bigger goals.
"I'm lobbying to get my face on a character for the next game," he says. "We'll see how that goes."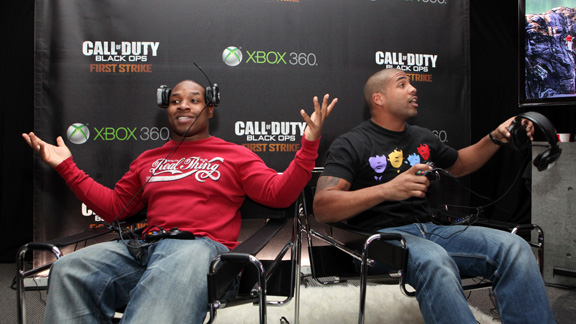 ActivisionJones-Drew goes into beast mode to defeat Foster.
As for MJD, he just can't wait to go back online and get another kill streak.
"Other games try and copy, and people are always going to try and bite off the best, but there's only one 'Call of Duty,'" he says. "And guys like me will never leave."
ESPN ARCADE
The sequel to our most popular game is here. How's your return?

Run timed routes, beat DB's to the end zone and score.

Hit your receivers, dodge defenders and rack up TDs.