February, 22, 2011
02/22/11
12:43
PM ET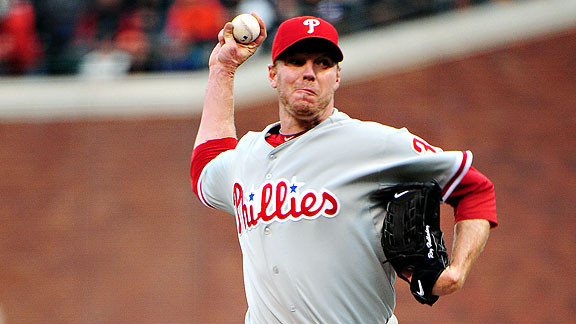 Kyle Terada/US PresswireLook for a new pitch to be introduced in "MLB 2K11" thanks to coverboy Roy Halladay.
Roy Halladay's split-finger changeup is so nasty, they should change the name of the pitch to "Something Wicked This Way Comes."
And new to "MLB 2K11," gamers will be able to throw the ace up the ace's sleeve, striking out digital batters and making them look as foolish as their real-life counterparts.
Cool thing is, gamers have Hallady himself to thank for the new changeup being added into the game.
In a recent consulting session with the development team behind the upcoming title, Halladay's input was one of the driving forces behind the tweaks made to the game's pitching.
"Halladay and Tim Lincecum own the league with the split-finger changeup, and Halladay helped us with the break and how it works," explains "MLB 2K11" designer Sean Bailey. "He also explained how he pitches to contact every single pitch. He and (Phillies catcher) Carlos Ruiz memorize the blue zones of the Inside Edge scouting that we actually use in the game for every batter. He tries to throw a strike at their blue zone to get them to swing in order to keep his pitch count low. Halladay emphasizes pitch count in everything he does, so he was like, 'Guys, you have to show pitch count in the game.'
"So we threw out all the arbitrary video game terms like stamina and energy. Now if you pause it, we show you that pitch count. The manager tells you the range he wants you to throw, and while you don't have to listen to that advice, if you don't follow it, you're going to have a lot of tired arms in franchise."
On top of that, 2K Sports actually built a mound to Major League scale in their motion-capture studio and reshot all of the various pitcher emotions and pacing.
Adds Bailey: "Now if you're throwing a no-hitter, the pitcher is walking around the mound and he's not looking at or talking to anyone. He just wants the ball back really fast. But if he's struggling, he will walk around the back of the mound, and you can see the stress build up throughout the game. And these little things, while they don't change the gameplay, they are the types of things that once they're tuned right, they make the whole experience feel more real. And again, we have Halladay to thank for helping us add this type of detail into the game."
So what does Halladay think about all the new upgrades? I caught up with the Phillies superstar between takes of the "MLB 2K11" commercial shoot to get his thoughts on everything from the million-dollar challenge to what it's like pitching with the pressure of perfection. Here's what "Doc" had to say.
Jon Robinson: 2K Sports is holding a competition where a gamer can win $1 million for throwing a perfect game in "MLB 2K11." What kind of pressure will they be under to try and stay perfect with that much money riding on the outcome?
Roy Halladay: It's going to be tough. Obviously, that is something I didn't have to deal with, but it's great to be able to add that type of emotion into a video game, similar to what we do. There is so much on the line when you go out there, and if you can carry that emotion over into a video game, it makes the game, not only more fun, but makes it more involved.
ESPN ARCADE
The sequel to our most popular game is here. How's your return?

Run timed routes, beat DB's to the end zone and score.

Hit your receivers, dodge defenders and rack up TDs.