February, 10, 2011
02/10/11
10:44
PM ET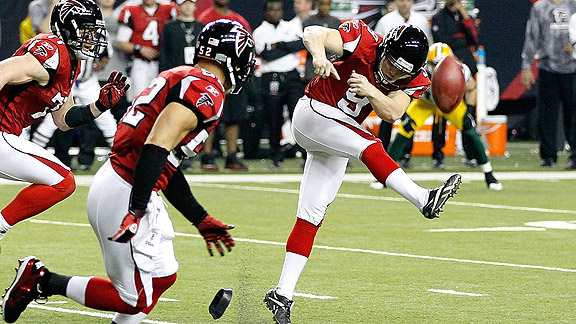 Kevin C. Cox/Getty ImagesLook for surprise onside kicks to finally be featured in "Madden NFL 12."
Surprise onside kicks are a stomach-churning way of life for special-teams coaches in the NFL.
But up until now, it's a play that has been left on the cutting-room floor in the EA Tiburon studios for fear of the kick becoming an exploit that could ruin games.
So when creative director Ian Cummings tuned the play to his liking recently over a long weekend, he knew that this was the announcement to lead with when it came to opening the dialogue with the sports gaming community about "Madden NFL 12."
And by dialogue, I mean fierce debate, as there seems to be a line in the sand with some members of the community thinking this is an addition a long time coming, while others fear that cheesers online will find a way to recover the onside kick at will no matter how much it's tuned.
But since nobody outside of the EA Sports offices has even attempted a surprise onside kick in a game of "Madden," I figured the best person to settle the arguments and clarify any potential problems is Cummings himself.
Here's what the man behind the most controversial feature since the passing cone has to say about the play, how it will be limited in competition, and why it was important to inform the community about this as early as possible.
Jon Robinson: Of all the new features you guys are kicking around, why did you announce surprise onside kicks as the first thing gamers can expect for "Madden NFL 12"?
Ian Cummings: We discussed for quite a long time what we would lead with. There was a lot of debate, but I really wanted to lead with this because of the discussion it would cause. It's not a huge feature. It's not something that took a ton of time. But it's something that's been a hot-button issue in the community. Some people have made a really big deal over us not having this in the game, and it's something we always wanted to do, we just needed to balance it right. So we figured we'd lead with it and we'll get people talking about how it will be an exploit, or on the flip side, how it needs to be in the game. But we knew it was something that would get people talking about "Madden 12." If we lead with something huge, then it's tough to continue that momentum. So we decided to lead with something controversial to get people talking about the game.
Jon Robinson: What's the success rate of these surprise onside kicks in real life?
Ian Cummings: I went through the NFL playbook tool that we have and it's a little over 55 percent of the time that they get the ball successfully when they do a surprise onside kick. We can't tune it like that, unfortunately. I wish that we could, but then everyone would do it all the time. So it's yet to be determined where we put it at. Right now, it's an organic thing. You can't make it something where 50 percent of the time you recover because once you kick it, the ball bounces in different directions and the player AI reacts in different ways. Right now, we're trying to dial in that number because it's actually way too hard to recover. The very first build where I had it, you could recover just about every time, but with the current build you can recover maybe 1 out of 100, so it's way too low. We'll continue to tune it as we go along.
ESPN ARCADE
The sequel to our most popular game is here. How's your return?

Run timed routes, beat DB's to the end zone and score.

Hit your receivers, dodge defenders and rack up TDs.