April, 7, 2011
04/07/11
3:39
PM ET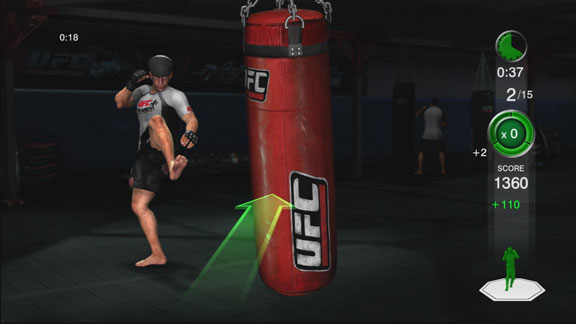 THQ"UFC Personal Trainer" features moves from wrestling, kickboxing and Muay Thai.
[Ed. note: For more great MMA content, check out the latest episode of MMA Live Extra.]
While fitness products like "EA Sports Active" and "Wii Fit" have been clear-cut sales winners, the products have primarily been designed for and pushed towards a female audience.
But will guys put down a controller and pause their "Call of Duty" online battle long enough to jump around their room and work up a sweat?
That's the gamble THQ and the UFC are taking with "UFC Personal Trainer," the first fitness game targeted toward the male gamer looking to lose a few pounds while at the same time learning to kick a little ass.
I caught up with "UFC's" lead designer, Troy Sheets, as well as THQ's director of production, William Schmitt, to get the goods on the new game. Here's what they had to say.
Jon Robinson: Why do you think UFC is the perfect partner for a fitness-style game?
Troy Sheets: The first thing we looked at is that all the other fitness-style games out there tended to be really soft and catered toward the female audience. They also all tended to be developed by game designers rather than fitness professionals. So with the partnership THQ already had with the UFC, it seemed like a logical step to actually enter the fitness realm, hitting strong with a very powerful message along with the hottest sport that's out there. We have partnerships with both the UFC and the National Academy of Sports Medicine who is our governing body that gave us the content.
Jon Robinson: What UFC trainers are involved with the project?
Troy Sheets: Mark DellaGrotte, Greg Jackson and Javier Mendez. We actually created 3-D models of each of them and they act as your coach as you do your workouts. All of our exercise, all of our content is created around their specialties. So for instance, Greg Jackson is known as a good all-around guy with a wrestling base, so his exercises are themed around wrestling. Mark DellaGrotte does a lot of Muay Thai strikes in a cardio kickboxing format, and then Javier Mendez does the same but from more of a kickboxer's standpoint.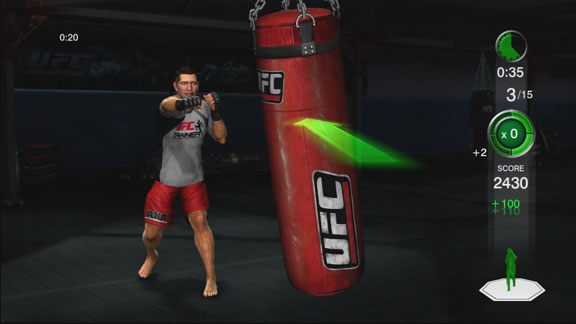 THQThere are over 70 different exercises to learn in "UFC Personal Trainer."
Jon Robinson: So when somebody is playing, should they expect to be able to not only get in shape, but to learn proper striking techniques?
Troy Sheets: It is never our intention to actually teach martial arts, but you are being shown the proper technique for the moves themselves. So you will be shown how to throw a proper elbow, but the intent behind it is not to teach you how to fight, but how to workout in a way a mixed-martial artist works out.
Jon Robinson: So I'm not sitting there on Kinect trying to put anyone in a hold.
Troy Sheets: You can do that totally on your own. [laughs]
Jon Robinson: Can you play with other people online and workout together?
Troy Sheets: What we've done is create a structure where you can do some side-by-side workouts and you can do some hot-seat workouts where basically you do an exercise or an activity and then the next person can jump in and try to match your performance or score, but we don't do anything as a group.
Jon Robinson: You mentioned the UFC trainers who are involved in the game. Are there any current UFC fighters in the game as well?
Troy Sheets: We have 15 different fighters plus the three trainers who participate in certain activities as your workout partner.
Jon Robinson: What do the fighters do in the game?
Troy Sheets: There are a lot of activities that we place the fighters in. We have this one called hit the mitts and it's a focus mitt drill that you'll see a lot of boxers and fighters do. So in this activity, you're doing this with a partner and you get his voice-over and he coaches you through it. He's telling you, "Throw a jab, throw an elbow, throw a cross!" That kind of stuff.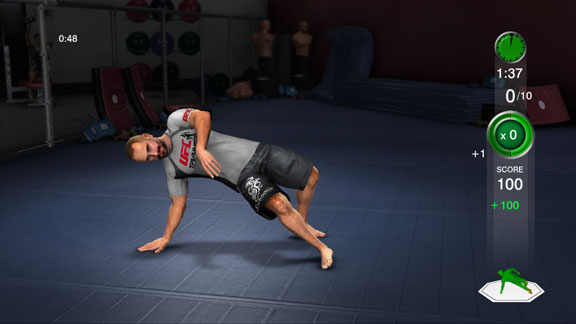 THQDigital versions of real UFC fighters and trainers will help motivate you to workout.
Jon Robinson: How long is the average workout per day?
Troy Sheets: There are actually a whole lot of different programs in the product. We have 30 and 60-day programs, each with different goals. Whether you want to lose weight, build muscle, or just build endurance, we have a program for you. And when you're going through the programs, you are handed routines each day, and sometimes they are as little as 20 minutes, sometimes they are as much as an hour.
William Schmitt: The product also judges your level. You take a fitness test when you start the product, and it adjusts all of the repetitions and durations of the exercises based on the results of your fitness test.
Jon Robinson: Does the game also set up any type of dieting plan to help you plan out your fitness goals?
Troy Sheets: One of the things that we focused on with this product is the exercise portion. A nutritional aspect along side of that is something that we didn't feel we could execute perfectly, so we encourage that you partner with someone else for your nutrition because it's not a part of our product.
Jon Robinson: Do you think guys are going to be receptive to putting the sports and shooting games down long enough to get a workout?
Troy Sheets: One of the things about this game is that it's more than just a workout product. It also has the activities in it that are more game-like making it much more fun than just a hard workout. Combine that with the UFC's presence and seeing the fighters and seeing the trainers who are very recognizable to UFC fans, and it's a great experience overall.
William Schmitt: It's more than just a workout. There are competitive elements that we put into it as well like the tire flip. I don't know if you've seen the workout that Chuck Liddell does, but a lot of UFC fighters train with these huge tractor tires that they flip, and that's just one activity that we offer that's based around an MMA exercise regimen that you can compete in. So I can get in there side-by-side next to you and we can compete and earn points based on our performance flipping these tires. Meanwhile, you're getting a good workout because to flip the tire, it's a combination of a squat and a thrust. The activities are basically there to disguise the fact that you're actually working out. It's to make the workout fun. So for the tire flip, you have to squat and engage the tire, then lift and push forward. So this activity, it has a little bar meter, almost like a golf swing meter, and if you push at the right time, you'll get more points.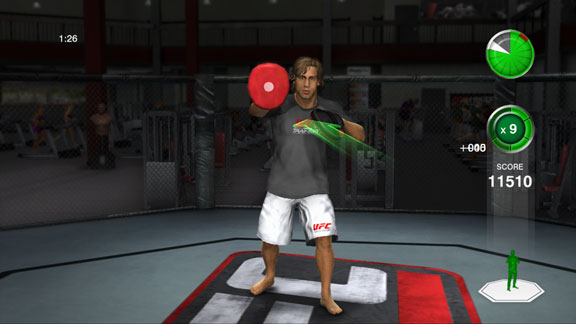 THQ"UFC Personal Trainer" will make you sweat ... and that's a good thing.
Jon Robinson: What type of influence has Dana White had on the product?
Troy Sheets: Dana has played the product and given us a lot of good feedback. As you know, Dana was a personal trainer before he became the ringmaster over at UFC, so when he played it, he told us what he did to motivate people. He had some really insightful feedback for us because of all of that experience he has had motivating people to workout. He actually changed our entire motivational system in the game to allow you to really push yourself during these exercises.
Jon Robinson: When was the first time you realized how good of a workout you can get playing this game?
Troy Sheets: Day one. It's really impressive. You wouldn't believe the amount of people who come back after playing and go, wow, I didn't expect to get my ass kicked like this. It's an experience that's significantly more challenging on the physical side than any other fitness product out there. We took an approach that we wanted people to walk away knowing that they got a bad ass workout from this exercise program. This is not "Wii Fit" or one of those other products that is soft.
William Schmitt: It really sank in to me after talking to our developer. We have three testers on site, and after two and a half months of working out, the three testers have lost a combined 100 pounds. It gets you up, it gets you moving, and when you're playing this game, you're going to get 20-minutes to 60-minutes of activity and you're going to sweat it out.
Look for UFC Personal Trainer to hit stores in June for the PlayStation 3, Xbox 360, and Nintendo Wii.
ESPN ARCADE
The sequel to our most popular game is here. How's your return?

Run timed routes, beat DB's to the end zone and score.

Hit your receivers, dodge defenders and rack up TDs.