April, 15, 2011
04/15/11
5:02
PM ET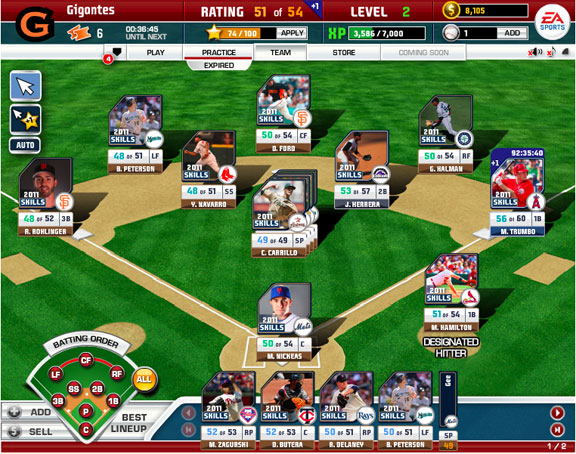 EA SportsEA Sports is back in baseball after a six-year hiatus.
Finding new ways to play baseball without actually playing baseball is something of freakish hobby of mine ever since I realized I had all the hardball talent of a stick of that cardboard-like gum at the bottom of a pack of cards. From playing "Strat-O-Matic" dice games as a kid to games like "RBI" and "The Show" to simulations like "Diamond Mind," I can spend hours trading players and adjusting lineups without ever losing my grin.
My latest obsession? EA Sports' "World Series Superstars," a free new Facebook game that combines the art of collecting cards with the strategy of pure baseball to deliver another epic time-sucking distraction online.
The beauty of the game is that you can be as involved with your team as you want. Meaning, if you want to micro-manage every plate appearance, the choice is yours. Or, if you simply want to simulate the outcome and jump to the next game or pack of cards, you have that ability as well. And it's that flexibility that keeps me coming back as I find myself spending ten minutes playing the game one day, an hour the next.
This is EA Sports' first baseball game in six years, and builds upon the buzz generated by the company's other Facebook games, "FIFA Superstars" and "Madden NFL Superstars."
I recently had the chance to catch-up with EA Sports president Peter Moore to ask him about the new game and the future of MLB-licensed products from his company. Here is what he had to say.
Jon Robinson: It's strange to think that a company like EA Sports hasn't made a baseball game in six years. You've just launched "World Series Superstars," is a deal for console games also already in the works?
Peter Moore: There is nothing other than the right to create social network games. We'll continue to talk to our friends at MLB as well as Baseball Advanced Media and the Player's Association about other opportunities, but our focus right now is with "World Series Superstars." We're delighted to get all our deals done and our licenses secured. We've been building this game for a long time now.
Jon Robinson: How would you describe the concept of the game?
Peter Moore: You start out in the equivalent of Single-A ball and you start out with a bronze pack of Major League players. You play and you win and every time you win you start building up coins. Then once you collect enough coins, you can go buy another pack of cards. It's a classic social networking game and GM/Manager-type game where you work your way up from the depths of the minors all the way up to the Major Leagues with the goal of winning the World Series. It's a lot of fun, but it's something I know I'm going to end up spending some of my own money in order to accelerate my path. I just don't have the patience to grind things out like a lot of people do in these free-to-play games. But what I love about this game is the amount of control you have over your team. It's not like "FIFA" where you just send your team out there and hit play. There are a lot more decisions I can make here from who is pitching to how you set your fielders. Everything you can do in a virtual GM game you can do here, and I just think baseball is better suited for this type of game rather than more fluid team sports like football or soccer. If you're a baseball fan, you'll enjoy this. It's one of those games where you need to build from the ground up, but it gets pretty addictive once you get a decent team out there and you're working your way through the leagues and generating an identity for your team.
Jon Robinson: The game is free to play, but gamers do have the option to spend money to improve their teams. How does the pricing work?
Peter Moore: If you look at a game like "FIFA," what I normally do is go in and buy $20 of PlayFish coins, then that goes into my virtual wallet to spend on not only players, but you can buy a coach or a better training facility that helps improve your team faster. There are all kinds of increments that you can spend that will help improve your facilities or improve your team.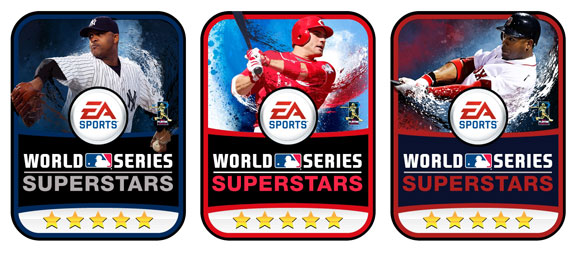 EA SportsCollect the best players in baseball as you try to win the World Series.
Jon Robinson: How many people are playing these social network games from EA Sports? Is the number more or less than what you initially thought it would be?
Peter Moore: Between "FIFA Superstars," "Madden NFL Superstars," and "EA Sports PGA Tour Golf Challenge," we're now looking at 5 million monthly active users. That's a little ahead of our projections and I've very optimistic that "World Series" will be our most successful game yet. With the length of the season, the timing, and with the game mechanic being the best of any of these games that we've had so far, I'm feeling really good about this game.
Jon Robinson: Are you surprised about the popularity of Facebook gaming?
Peter Moore: I'm actually not because I find them low friction. I play all of ours and I keep all of my teams moving along because they don't require skill, per se, what they require is a cultural knowledge of the sport itself and who the players are. Secondly, if I don't want to spend any money, I don't have to, and this allows you to interact with world class IP for free. We look at the mechanic, and we call it Collect, Build, Play, Share. You collect your players, build them all up and start building your franchise, then you go out and play and win and play and win and earn those achievement points. Then you can go and share those achievements or points with your friends or other players, so there is virtual cycle and a viral effect when this thing hits that is organic within the game itself. So I'm not surprised people do it. There's no barrier to playing, so why not? It seems like everybody is on Facebook, obviously, so you go in there and it's just one more mechanic to go in and interact with people. And sports gives you that extra element of trash talking which I like and you don't find in any of the other games on the Facebook platform.
Jon Robinson: I touched on the MLB license earlier, but how often do you hear the title "MVP" and hear from fans dying to have the series return?
Peter Moore: Yeah, we hear "MVP" and "Triple Play" and we're looking down the road, not to say we're not looking at other ways to bring our baseball engines and experience back to life again, but right now we're focused on this real growth opportunity in social networks. We're really excited about this. EA Sports is back in baseball and we're doing it in a big way with no cost to play.
ESPN ARCADE
The sequel to our most popular game is here. How's your return?

Run timed routes, beat DB's to the end zone and score.

Hit your receivers, dodge defenders and rack up TDs.