May, 26, 2011
05/26/11
12:00
PM ET
One thing that's always bugged me about NHL video games is the invincibility of the goalie. He's out on the ice diving and making crazy saves with no threat of virtual violence or retaliation. Meanwhile, his teammates are getting face washed, flying face first into the glass, and throwing down all around him in brutal first-person fights.
But in "NHL 12," not only can I rush the goalie and even dislodge the net, I can entice the goalie to fight one of my goons, or better yet, watch as my own goalie skates to center ice and challenges his rival to leave the net and catch a beat down.
"This is something we've wanted in the game for years," explains "NHL 12" producer Sean Ramjagsingh, "and goalie fights is probably the most requested feature we got after last year's game. It's pretty cool being able to fight with the goalies. Our biggest concern coming in was that there just haven't been that many goalie fights over the last five years, but sure enough, this year we had a few in the real NHL. And it's cool to fight as the goalies, because if you run the goalie, your D-Men will take notice of it and go after that guy."
That's right, you'll see players stand up for each other, just like they did last year for their superstar, but push the goalie too far, and he'll decide to handle his business on his own.
If only they'd add the ability to knock out some virtual teeth.
But this year's game isn't just about goalie's beating the saves out of each other. I sat down with Ramjagsingh to get a detailed look at three key areas the "NHL" team has focused on for "12."
1. Don't just be a pro, be a legend
Be a Pro mode was introduced back in "NHL 09" and became an instant hit with gamers. But since then, the feature really hasn't seen much improvement. "Our fans have been asking for more," says Ramjagsingh. "So this year, our motto was 'Become the Next Legend.' This year it's all about you and your character becoming the next great legend, and we've included some presentation elements that capture these legendary moments."
But before you become the next "Great One," you'll first need to earn your ice time. "When we put the mode in back in '09,' we quickly realized that sitting on the bench is not an optimal gameplay experience," explains Ramjagsingh. "Unrealistically, what we did was allow you to put yourself back in the game at any time, but the way we redid the mode this year is when you start to play, your coach will give you a task. The better you execute that task (kill a penalty, score a goal), the more ice time you'll earn."
Also new this year is the ability start your career as a 15 year-old in the CHL. From there, it's off to the AHL before finally making it to the NHL as your journey from teenager to All-Star continues.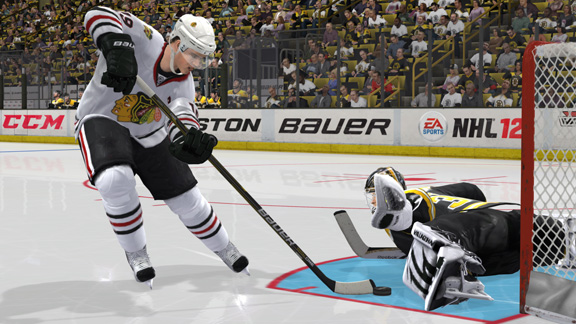 EA SportsThe better you play in "NHL 12," the more ice time your player will earn.
And when you're not on the ice, you still have the ability to watch the game from the bench, but now you also have the option to either watch a visual display of all of the action via a text sim called Action Tracker, or you can simply skip to the next time you're in the game (think "MLB The Show"). "If you're on the bench, press fast forward and you're right back on the ice," adds Ramjagsingh. "So now if you're a forward who plays two-to-three shifts per game, you can play the game in about five minutes. But if you're a top-of-the-line center, and you play 25 minutes a game, it's going to take you that long to play. This really makes things a lot more realistic, making you earn that ice time, and having ice time given out based on how well you play."
2. Physics change gameplay
Last year, "NHL 11" moved away from animation-based gameplay and introduced a real-time physics engine that led to more realistic collisions based on the size, strength, and speed of the players. This year, "NHL 12" takes that physics engine a step further. "We're calling it Full Contact Physics this year, and we want everything to be live," explains Ramjagsingh. "Now when you hit a guy, you'll see helmets popping off and be live on the ice. You'll also be able to hit players into the bench with the other players on the bench reacting appropriately, and if you hit a guy hard enough into the glass or if you hit a hard enough slap shot, we have the glass breaking as well. We also have new puck physics, so you'll see the puck rolling more and you'll see knuckleballs off some slap shots."
Best of all, the new physics engine means the goalies are finally in play. You can bump the goalie, hit the goalie, run the goalie, and if you're driving hard to the net and get taken out, you can also take the goalie out and even knock the net off its moorings.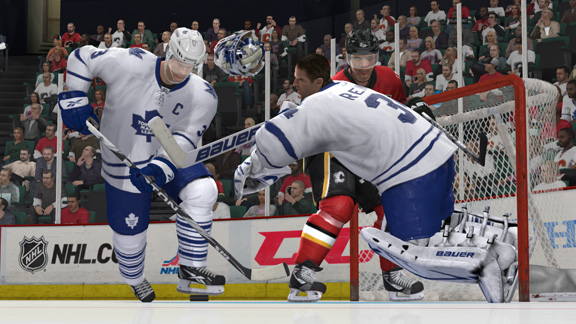 EA SportsPop a helmet off the opposing goalie, and he might be looking for a fight.
"We're really focusing on making size and strength matter more," adds Ramjagsingh. "When you look at the EA Sports Hockey League, last year, all anyone used were the small, quick guys. This year, we make the big, strong guys matter more, especially in front of the net. We've created a lot more scrambles in front of the net as we've made that area come alive with the big guys pushing and bumping. And to go along with that, since we have all these crazy scrambles going on in front of the goalies, you'll see a lot more desperation type saves and scramble type saves where maybe the goalie is bumped out of position, so now he's diving back to make the save and doing whatever he can to keep the puck out of the net. All of that interaction has been a real focus for us this year."
3. Presentation really matters
Some games, you pop the disc in and it takes five minutes of maneuvering through menu screens before you can even do what you paid your money for, and that's play. In "NHL 12," start the game and you're instantly transported into the franchises newest environment, the Winter Classic." Says Ramjagsingh: "In terms of the NHL, this is now the pinnacle event outside of the playoffs, so we have Heinz Field, we have the snow falling, we have fireworks and fire. We really just tried to capture everything about the Winter Classic presentation-wise.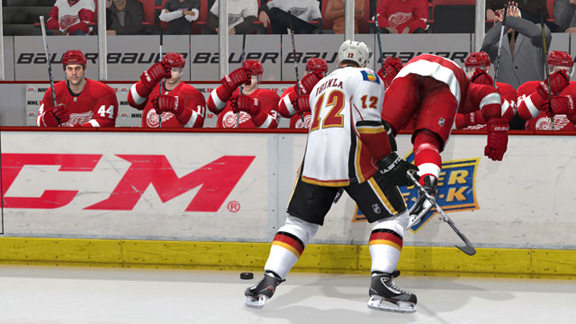 EA SportsTake your opponent out by hitting him into the bench.
"Another thing we really tried to capture is a cohesive television package. Last year we started a partnership with a company that does graphics for everyone from ESPN to The Golf Channel, so this is our second year working with them on the art direction of the game. It's a cleaner, flashier, sleeker look to the game this year where in years past we tended to focus on the dirtier elements of hockey with the scratches on the ice and dirty snow. You see this new look in all of our screen wipes, overlays, and menus."
The team also focused heavily on the game's broadcast replay package. "When you see three or four big saves or a bunch of big hits, we have a new replay package that will give you the broadcast package with the player's name flashing across the screen," explains Ramjagsingh. "And anytime you pause the game, you'll see the EA Sports Action Tracker with all of the stats on the screen. You'll see all the shots you've taken, where you've taken them from, where you're shooting on the net ... just making all of the stats we track under the hood available for you to analyze."
Add to that a completely new simulation engine that was created from scratch for "NHL 12," and we are just scratching the surface of this incredible looking game.
Just a warning for anyone who wants to play me online. My goalie is itching for a fight and I finally have the ability to do something about it.
ESPN ARCADE
The sequel to our most popular game is here. How's your return?

Run timed routes, beat DB's to the end zone and score.

Hit your receivers, dodge defenders and rack up TDs.