June, 10, 2011
06/10/11
4:40
PM ET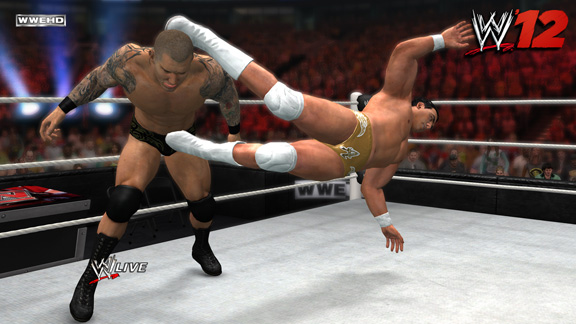 THQAlberto Del Rio gives Randy Orton a "WWE 12" kick to the back of the head.
Alberto Del Rio is checking out his "WWE 12" video game character (complete with virtual Bentley) when something funny happens. Instead of the usual crowd of wrestling fans jocking wrestling's most smug heel, a group of women start to gather around the superstar, with one even tapping me on the shoulder and asking me who he is.
"He's Alberto Del Rio, but you should already know that," I say, biting one of Del Rio's favorite lines.
"He's so hot," is all the woman has to say in response.
A few minutes later, I tell Del Rio about all the women he was ignoring because of his video game and he starts to laugh. "Thanks for letting me know. I better go back and get some numbers," he jokes with his trademark smirk.
Unbelievable that for so many years, Del Rio actually hid his face in favor of a wrestling mask, but as the superstar explains, it was all about tradition.
"When you wrestle in Mexico, the mask is everything," Del Rio tells me as talk behind the scenes of E3, backstage at THQ's swank booth. "The most important match in Mexican culture, in Mexican wrestling is Mask vs. Mask. That's the reason I wore the mask for years, and of course, because of my father and grandfather. But at this moment, I feel totally comfortable without my mask and with Alberto Del Rio.
"When I came to WWE, they told they wanted to use me without the mask, but I didn't care because I just wanted to work. They told me all of their ideas about Alberto Del Rio, and I loved the character right from the beginning. I was a baby face my entire life, but I'm a heel here in the States and I'm loving it. I don't want to be a baby face ever again. The bad guy is the one who controls the match. The bad guy is the one who makes the crowd cry, laugh, scream, whatever. It's fun."
ESPN ARCADE
The sequel to our most popular game is here. How's your return?

Run timed routes, beat DB's to the end zone and score.

Hit your receivers, dodge defenders and rack up TDs.