September, 15, 2011
09/15/11
3:38
PM ET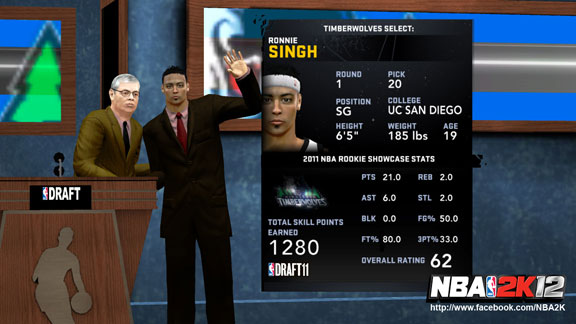 2K SportsIn "NBA 2K12," you're a top prospect trying to make the Hall of Fame.
Due to the NBA lockout, no rookies will be included in the video game "NBA 2K12." If/when the lockout ends, an online roster update will put everybody into the lineup, but for now, the only number one picks that are going to end up on virtual courts are going to be the ones created by gamers in 2K's popular My Player mode.
For those who haven't experienced My Player, the single-player experience enables you to create your own baller, customize his look from the afro to the bald dome, workout at pre-draft competitions against other top prospects, then embark on a journey from no-name bench warmer to full-fledged NBA superstar. Only think missing is a Kardashian sister.
And while the mode was actually the franchise's most popular last year (more people played My Player games than any other feature in "NBA 2K11" according to 2K Sports), there were still a variety of enhancements the production team wanted to implement to make My Player a more enjoyable experience.
"Previous years we had the draft combine and training camp, but the mode was more about the journey than the destination," explains producer Erick Boenisch. "This year, we wanted to make the destination more impressive. It always took you four to eight hours just to get to the NBA, and at last year's draft combine, there was no crowd, no cheering, no presentation, no commentary ... it was a dry experience. It was realistic, but I don't think it was a fun enough experience to continue doing.
"In 'NBA 2K12,' I want you to get to the NBA very quickly, and I want to ramp up that presentation greatly."
So this year, after creating your character, gamers will play what is called the Rookie Showcase. This is a game where all of the players from your draft class play in the same game and how you perform on the court will influence your draft stock. It's an eight minute quarter game, and you'll get your shot to show what you can do, playing about 75-percent of the time unless you get in foul trouble. You'll be evaluated on your stats, your teammate grade, and generally how well you play against the other top picks.
Once you finish the Rookie Showcase, you jump into a cool new feature called Pre-Draft Interviews. You're in the Madison Square Garden locker room, surrounded by directors of player personnel from the various teams, and they all come up and ask you questions to gauge your personality, your motives, and how you'd fit in with their franchise. The interviews are all done with real audio, so it's not like you're just clicking through some boring text boxes and reading question after question.
"If you're getting interviewed by the Bulls and you're a point guard, the Bulls GM might tell you that they already have their point guard of the future in Derrick Rose and ask you how you think you'll contribute to the team," says Boenisch. "You can answer: Hey, I'd love to be his backup, that's great. Or, if that's not what you're looking for, you can tell them that you have bigger ambitions and don't want to be in Chicago. You're giving teams a feeler about where you want to go and what you're interested in for your career."
It also depends on what position you're playing. If the Bulls come to you and you're a power forward, they might tell you that they already have Carlos Boozer, but then you can respond that you're better than Boozer and that they should draft you and trade him if they really want a shot at winning the title.
After the questions are over, you'll see where you rank in the mock draft. This is a combination of your play on the court and how you fared in the pre-draft interviews. There's even a strengths and weaknesses section that shows where you balled out and what still needs improvement.

Adds Boenisch: "If you came across cocky in the interviews, it might say something like, 'Diluted about actual abilities.' But if you came across like a team player, it might say something like, 'Willingness to play in a any situation,' and that will show up in strengths."

Then when you move on to the actual draft (players will slip or climb from the mock draft just like real life), for the first time the game features full audio from NBA commissioner David Stern. "Through our partnership with the NBA, we were able to get him in our studio for the day," says Boenisch. "And he's literally going to call out all of the picks, including your pick, and we think this is something fans are really going to be excited about. And for the franchise nerds out there, we even have Adam Silver doing the second round. That's the extra touch, the icing on the cake and the cherry on top."

Once you shake the commissioner's hand, it's time for your first contract negotiation. The concept of contracts is new to My Player, and it's the first time they've ever had money in the mode. With your first contract, there's not much to negotiate, as your money is slotted depending on where you get drafted. But later, when you become a free agent and decide to flip the script and take your talents to Cleveland, you'll be able to negotiate the deal. Once you get your money, you actually get paid, so every 14 days you can spend your loot on assorted things like skill points for your player, you can increase your attribute caps, you can buy signature animations like Michael Jordan's dunk package, or you can take your team out to an activity like bowling in order to increase chemistry and local fan support.

Once your rookie deal is in place, it's on to the NBA. And while past My Player modes never really gave you a goal beyond "win as many titles as you can," this year you're playing for a shot at the Hall of Fame. So once you make it into the NBA, you are given a list of 15 goals. Once you accomplish 10 of those goals, you qualify for the Hall of Fame after you retire.

The Hall of Fame is a fully modeled environment," says Boenisch. "Your player stands up there at the podium in a suit and you can customize your Hall of Fame induction speech. You can choose from a variety of intros, pick the personality style of the body and closing statements, and pick how you want to be remembered. You can be thankful, you can be cocky, it's up to you.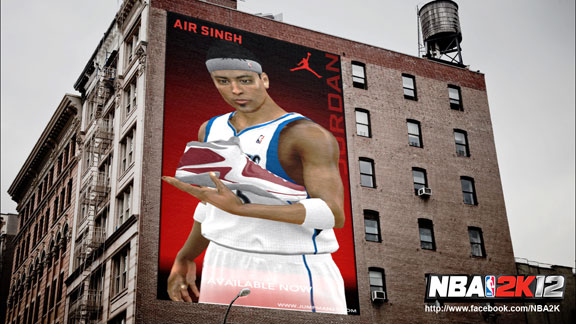 2K SportsGet good enough and your player could become the new face of Brand Jordan.
"And while previous years made you play every single game in your season, this year we added a feature called Play Next Key Game. This allows you to jump to only the critical games in your season. These games would be rivalry games like Lakers vs. Celtics or if you're playing a team that features a strong player at your position. You'll also play any game with playoff implications or elimination games."
The goal here is to get you through the season in 10-15 key regular season games instead of playing all 82. This will help you play through multiple seasons as you try and become that Hall of Fame player you hoped for when you created your budding superstar.
"Personally, I've found the quicker pace leads to a more enjoyable experience," says Boenisch. "You get through your contracts quicker, you play more of your career, and you're just not going to have to play the Bucks in November anymore."
Other new features include dynamic goals in every game (20 seconds left and down by one, your dynamic goal will be to hit the game-winning shot), and abilities that enable you to improve skills from shooting to dribbling. "In each section, you'll see different abilities," explains Boenisch. "So for dribbling, you'll see the crossover, the hesitation dribble and the spin, and you actually improve these skills one by one through your player. Last year, we just had one stat for ball handling, and when you improved that, it improved everything. So now you can develop your player to have an incredible spin move but a poor crossover. It's a whole new way to specialize your player and build him up with go-to moves as the AI will adapt to the way you play if you only have one go-to move, so you constantly need to improve and adapt throughout your career."
And as you try and build your virtual self up into the next Chosen One (your character will start at the low 60s this year), you'll be offered a variety of endorsement deals. There are over 20 endorsements, from magazine covers and billboards to the ability to star in your own "Where Amazing Happens" commercial.
If only we could get this lockout over so "amazing" could happen for real.
Oh well, lucky for us, "2K12" ships to stores October 4.
ESPN ARCADE
The sequel to our most popular game is here. How's your return?

Run timed routes, beat DB's to the end zone and score.

Hit your receivers, dodge defenders and rack up TDs.