October, 24, 2011
10/24/11
5:22
PM ET
When Brendan Schaub obliterated Mirko Cro Cop's temple with his iron fist, the knockout (complete with Mirko's crumbling body) looked like it was straight out of a video game.
No surprise, then, that Schaub, AKA "The Hybrid" is one of the featured characters in THQ's upcoming fighter, "UFC Undisputed 3."
"I was in 'UFC Undisputed 2,' but I was only a bonus character, so not everyone got to play as me," Schaub tells me over the phone as we talk about his passion for gaming and knocking people out (both virtually and in real life). "My little nephews bought the game, but they couldn't play as me. They were like: 'I thought you'd be in it.' It's a low blow right there. So being in the game this year, and the fact that I'm actually in the game and not just a bonus character is huge.
"I worked my butt off to be where I'm at, I'm great with the fans, and I think it's that fan support that got me into the game. I'm a company man. The UFC is all I think about, it's all I care about, and it's an honor to be represented in the game."
Jon Robinson: Has THQ given you any insight into your fighter ratings yet for the new game?
Brendan Schaub: They haven't, but let me tell you, they better be good. [laughs] I've seen where the NFL guys get all over the "Madden" creators for their ratings and how they don't look good. One of my buddies plays in the NFL and he was so excited to be in "Madden," but then we got the game and he was a 58. I was like, 'Damn, dog, I don't think it gets any lower than that.' His feelings were hurt. He was hurt. So hopefully I won't see anything like that in the UFC game. I just hope they do me justice. I think THQ knows I have some skills, so I should be good. I'm a gamer, though, so the first day the game comes out, I'm one of the guys standing in line no matter what I'm rated.
Jon Robinson: Is there anything about your character from "UFC Undisputed 2" that you'd like to see different in the new game?
Brendan Schaub: I was actually a pretty well-rounded character in the last game, and I was a good fighter to play as. I hope this time around they give me a little bit more knockout power and a little better takedown defense. I haven't been taken down in two years so hopefully they hook me up.
Jon Robinson: So for gamers new to UFC, what's your advice on how someone should fight as you in "Undisputed"?
Brendan Schaub: The nickname "The Hybrid" explains it all. I have a mix of speed and power that's rare in the heavyweight division. I can last three rounds or five rounds or however you want to play, and I have the ability to knock people out, which always makes for a fun video game character.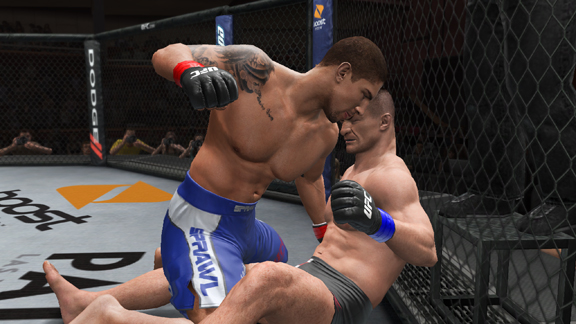 THQBrendan Schaub delivers another beatdown in "UFC Undisputed 3."
Jon Robinson: The game even features Pride rules this year. As a gamer, why are you looking forward to playing as yourself in Pride?
Brendan Schaub: As a gamer, you'll be able to smash people and inflict a lot more damage. This is going to be fun, especially if it's just in the video game. For me, being in the UFC, the Pride rules are a little bit scary with the head stomps and things like that, but in the video game, I'm all for it. There are going to be some brutal finishes.
Jon Robinson: You said you're a big gamer, what's your system of choice?
Brendan Schaub: I have the PlayStation 3 and Xbox 360, but I definitely use the PS3 more because it's hooked up as my Blu-ray player and I go online with my PS3 to play my brother online. I play everything. I think people would be surprised. I'm actually a big "FIFA" fan. That's what I like to play. A lot of the UFC guys are big gamers. I saw Microsoft gave Rampage "Gears of War 3" before it even came out. I was so jealous
Jon Robinson: You were on a big winning streak until you lost a tough battle out in Brazil to Nogueira. Do you have anyone lined up to fight next?
Brendan Schaub: I was on a four fight winning streak with a big knockout over Mirko Cro Cop, and I wanted a challenge. I wanted to do something nobody else had done, and that's fight Nogueira in Brazil. He's considered one of the best heavyweights of all time and I knew it was going to be a challenge. It was definitely hostile out there and I that got me up for it, but I was a little too aggressive. He caught me with a good shot and my night was over from there. It was definitely the most disappointing loss of my career and it's a tough one to swallow, but being a heavyweight in the UFC and at this world class level, you can't make a mistake. I made a mistake and I paid for it. It's part of the game. I'm a knockout artist, I'm not the type of guy who is going to go out there and ride out a decision, and I think that's why I'm a fan favorite, but I learned my lesson that night. I'm already back in the gym working on some things, but where do you go after you've fought guys like Cro Cop and Nogueira? I think a match between me and Fabricio Werdum would be something the fans would be into. There are a number of good match-ups out there, but that's the one that comes to mind right now.
Jon Robinson: What was your experience like in Brazil, not only fighting, but training?
Brendan Schaub: For me, it's about the journey, not about one night. Brazil is something I'll never forget. I definitely learned some new skills that will help me throughout my career. It's not something that helped me the night of the fight, but it was a learning experience for me being out in Brazil and getting some new tools for my bag. Just being in Brazil and seeing how much they love UFC and what it stands for, it was amazing. For Dana White and Joe Silva to put me on that card was a tremendous honor. Training out there is like nothing else. Here, we grow up playing football or basketball. In Brazil, they grow up doing Jiu-Jitsu. It's a different world. I definitely had my hands full training out there.
Jon Robinson: As someone who is both a fighter and a gamer, what do you think is the most difficult aspect of MMA training for THQ to try and capture in the video game?
Brendan Schaub: The passion and the dedication you have to have in order to get better in one of the disciplines. You see Werdum put the triangle on Fedor, and something like that has been practiced thousands of times in different ways. The amount of practice you need to do in order to pull it off in a live situation is unbelievable, and I don't think that's something people realize when they're playing the video game. A lot more goes into it than you would imagine.
Jon Robinson: THQ is actually putting the fine touches on your "Undisputed 3" character right now. Any advice on how you'd like to see him look?
Brendan Schaub: I hope to see a good looking dude. [laughs] I'm getting uglier with each fight, so hopefully they can take away the cauliflower ear a little, maybe tighten up the skin a little. Make me a little GQ-esque out there. The game doesn't need to be so realistic. These days, everyone wants the game to look as real as possible. I'm hoping for the opposite. I want some computer-generated good looks.
ESPN ARCADE
The sequel to our most popular game is here. How's your return?

Run timed routes, beat DB's to the end zone and score.

Hit your receivers, dodge defenders and rack up TDs.