November, 3, 2011
11/03/11
11:34
PM ET
Some scouts describe the velocity and movement of Justin Verlander's pitches as "video game-type stuff."
And while he hasn't quite perfected the "RBI Baseball" bend that makes pitchers/gamers drool even to this day, Verlander displayed enough of that video-game nastiness this year in Detroit to become the most dominant pitcher in the major leagues.
And it's because of that dominance that Verlander will be appearing on the cover of "MLB 2K12," a game the Detroit Tiger's ace will not only rep, but it's a franchise he has been playing for years thanks to the advanced analog pitching controls and authentic Inside Edge scouting reports.
"They have the scouting reports, and I swear, this is no B.S., but I've gone on there and literally looked at scouting reports and a hitter's hot and cold zones before I faced them in order to get a little scouting report for myself," Verlander says as we catch up over the phone to talk video games and pitching (who knew the two would intermix). "The scouting reports are actually taken from real Major League Baseball games, so this isn't just made up information. This is real scouting information.
"This game is the real deal."
Jon Robinson: When you were growing up playing games, like "Ken Griffey Jr.'s Winning Run," did you ever think that one day you'd be on the cover of a video game?
Justin Verlander: I dreamt. That's every baseball player and video game player's dream. I'm a gamer, I played "Ken Griffey Jr. Baseball" and he's someone I looked at as a kid and was like, "Man, I wish one day." So to be here right now representing 2K Sports and Major League Baseball, what an honor. I can't say enough. I'm extremely happy to see a dream like that come full circle.
Robinson: How did you first find out the news that you'd be on the cover?
Verlander: When I found out, I was extremely excited. My agent called me and broke the news, like unwrapping a present. He knew I'd be pretty excited about it.
Robinson: You just went through one of the most dominant seasons of any pitcher I can remember. When you look back on the season, what do you think of all of your accomplishments from the 24 wins to the 250 strikeouts to your second no-hitter?
Verlander: I think it's something that was something pretty special for me personally. I put a lot of hard work into being successful, so it's nice to have it pay off. I've had some good years in the past, but nothing like this. That's why I continue to work hard, because you never know what the ceiling is. I'm not saying that this year is the ceiling. Who knows? Just continue to work hard and it's amazing to see what can happen.
Robinson: Is there a moment that stands out from this season that I should try and recreate in "MLB 2K12"?
Verlander: The no-hitter. You can try and recreate the no-hitter in Toronto, I know I am. Try and throw 90 to 93 [mph] early in the game, get some quick outs, and get ahead of guys. If you can build on that, I feel that's really when I'm most effective, not only game to game, but throughout the whole season.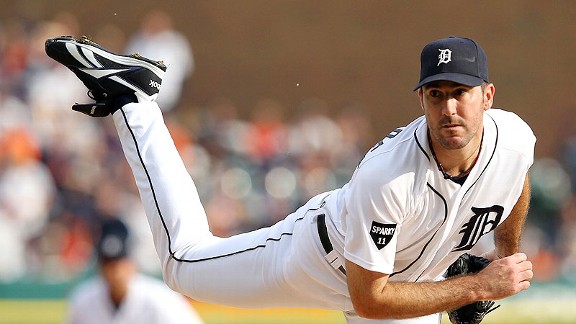 Leon Halip/Getty ImagesJustin Verlander is not only the "MLB 2K12" coverboy, he's a huge gamer.
Robinson: When you were a kid, who was your favorite pitcher to watch? Did you ever think that one day you might become better than he was?
Verlander: The guy I idolized myself after was Nolan Ryan, and yeah, I did. [laughs] I always wanted to say that if he had 5,000 strikeouts, I wanted 6,000. He had seven no-hitters, so I wanted eight. Just as a kid, those are the types of things you think about. Looking at it now, I don't think it's going to happen, but that was my guy. He's still around the game with the [Texas] Rangers, so I get to talk to him every now and again, and I still feel like a little kid every time I see him.
Robinson: Last year, I was playing "MLB 2K11" and had a no-hitter going into the eighth inning. I was so nervous, I started to sweat. But that's just a video game. When you're throwing a no-hitter for real, when do you first realize what's going on and that you're closing in on greatness? When do the nerves kick in?
Verlander: I say about the third inning I start thinking about it, and if it goes past five innings, I pretty much make a conscious effort to let it all hang out. I'm not going to give up a cheap hit on a pitch I didn't give 100 percent effort on. So I start thinking about it in the third, but I don't really get nervous about it, I just get a little bit more adrenaline.
Robinson: There's an amazing resurgence of Detroit sports right now, but I have to ask, if Calvin Johnson is Megatron, does that make you Optimus Prime?
Verlander: [laughs] Yeah, definitely. I like that one. I'm actually into Transformers, too.
Robinson: There is just so much buzz around the city of Detroit right now and all of these great teams.
Verlander: It's amazing. To see the way the Lions are playing -- Calvin Johnson who you talked about, and Matthew Stafford, too -- it's fun to watch them play. Then you have the Red Wings who are just this perennial powerhouse in hockey, and to just be around the city at a time like this, and to be a part of what you're talking about, all of these sports and this being a resurgence for the city is special. I think looking back at it 10 to 20 years from now, this might be a special time to look at and say that this is a turning point. And you know what, I'm not going to say that I had a big part in it, but even if I had a little part in it, that's something that's pretty cool.
Robinson: The Tigers had an amazing run this season. How do you guys take it to the next level and build on that success for next year?
Verlander: The next step is to win the World Series. We have the core group of guys back next season, and I think coming up just a little bit short leaves a bitter taste in a guy's mouth. We're going to want to push it just a little bit harder and win just a couple of more games. We were two wins away from the World Series, and while that's tough in one aspect, in another, that's a great year. I think, that being said, with the guys we have and the talent we have on this ballclub, I don't see why we can't win it next year.
Robinson: I know you're a big gamer, and last time I talked to you, you were one of the millions hooked on "Call of Duty." What are you playing these days?
Verlander: "Modern Warfare 3" comes out in a few days, so obviously, I'll be on that, and then when "MLB 2K12" comes out March 6, you know I'll pick that one up.
Jon Robinson: Do you have a system of choice?
Verlander: I have them all, but my system of choice is the 360. I use the Xbox for online play because all of my friends are online with the Xbox.
Robinson: And now they'll have to play you online at your own video game. Has that even sunk in yet? Have you had time to sit back and even reflect on everything you accomplished this season?
Verlander: To be honest with you, it's been such a whirlwind, I haven't had much time to reflect. Obviously, I know what the numbers are and I've seen some of the awards come in a little bit, and I recently just found out about the cover of "2K12," but I haven't had time to sit back and think about it. And I don't even know when that time will be, but I'm excited for it.
Robinson: All you have left is fitting inside that skintight spandex motion-capture suit so they can capture all of your pitches. Are you afraid of what you'll look like in spandex?
Verlander: [laughs] I'm not worried at all.
ESPN ARCADE
The sequel to our most popular game is here. How's your return?

Run timed routes, beat DB's to the end zone and score.

Hit your receivers, dodge defenders and rack up TDs.