December, 16, 2011
12/16/11
2:29
PM ET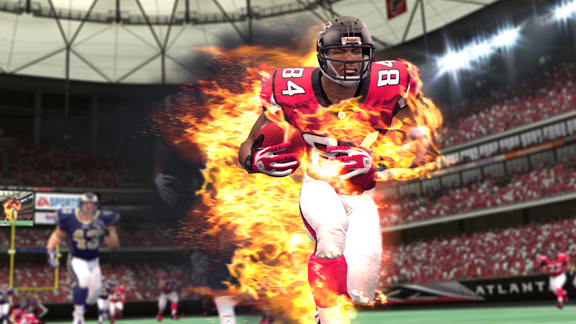 EA SportsRoddy White and the Falcons should be a force in the new "NFL Blitz."
Roddy White might have lost out on the cover vote, but the Falcons are still looking like one of the better "Blitz" teams out there. Michael Turner can bowl defenders over, Tony Gonzalez is a monster over the middle, Matty Ice is throwing virtual darts out there, and White is a threat to take any catch to the house.
But are they better than the Saints?
Talk about a "Blitz" battle with some explosive firepower.
Check below for the full lineups for the NFC South teams, and in case you missed it, be sure to go back and see who made the cut in the NFC East and NFC North.
January 4 can't come soon enough.
ATLANTA FALCONS
While the Falcons have a lot of things going for them on offense, this is one of those cases where I wish "Blitz" had a bench player who you could swap in for certain plays. If the game had a "wildcard" like that, I'd want him to be Julio Jones. I understand why they put future Hall of Famer Tony Gonzalez in the game instead of the rookie, but I think when EA goes back to the drawing board for "NFL Blitz 2013," this idea of an extra player you could sub in on certain plays (or maybe at halftime like "NBA Jam"), might be something they can look into.
OFFENSE:
Matt Ryan: QB
Michael Turner: RB
Roddy White: WR
Tony Gonzalez: TE
Sam Baker: OT
Tyson Clabo: OT
Todd McClure: C

DEFENSE:
Ray Edwards: DE
John Abraham: DE
William Moore: S
Brent Grimes: CB
Dunta Robinson: CB
Corey Peters: DT
Curtis Lofton: LB

Special Teams:
Matt Bosher: P
Matt Bryant: K

CAROLINA PANTHERS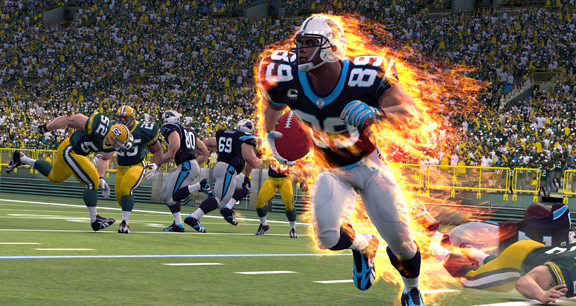 EA SportsCam Newton and Steve Smith look to be one of the most lethal combinations in the game.
If there was ever a player designed specifically for a video game, it's Cam Newton. So many times in "Blitz," I end up sending receivers deep just so I can clear space for a quarterback who can run, and with Newton, I have a QB who has speed, who can make any throw, not to mention, run over a few defenders on the way. Cam, by himself, makes the Panthers a must-try team in the game.
OFFENSE:
Cam Newton: QB
DeAngelo Williams: RB
Steve Smith: WR
Jeremy SHockey: TE
Jordan Gross: OT
Jeff Otah: OT
Ryan Kalil: C

DEFENSE:
Charles Johnson: DE
Greg Hardy: DE
Sione Fua: DT
Captain Munnerlyn: CB
Chris Gamble: CB
Charles Godfrey: S
Jon Beason: LB

Special Teams:
Jason Baker: P
Olindo Mare: K

NEW ORLEANS SAINTS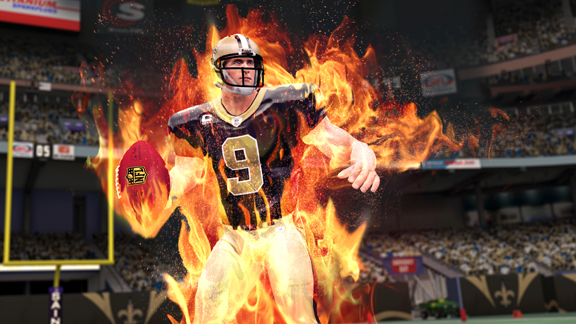 EA SportsDrew Brees is on fire, even if a lot of his "real life" weapons didn't make the "Blitz" roster.
To me, this Saints lineup really leaves me scratching my head and wondering what could've been. I know, I know, any team with Drew Brees and Marques Colston is still going to be able to put up good numbers with the "Blitz" jump catch, but the absence of Darren Sproles (video-game speed!) and Jimmy Graham (can anyone cover this guy?), really takes the team down a notch. Still good, just not as great as they could've been.
OFFENSE:
Drew Brees: QB
Pierre Thomas: RB
Lance Moore: WR
Marques Colston: WR
Jermon Bushrad: OT
Zach Strief: OT
Olin Kreutz: C

DEFENSE:
Sedrick Ellis: DT
Will Smith: DE
Aubrayo Franklin: DT
Roman Harper: S
Jabari Greer: CB
Tracy Porter: CB
Jonathan Vilma: LB

Special Teams:
Thomas Morstead: P
John Kasay: K

TAMPA BAY BUCCANEERS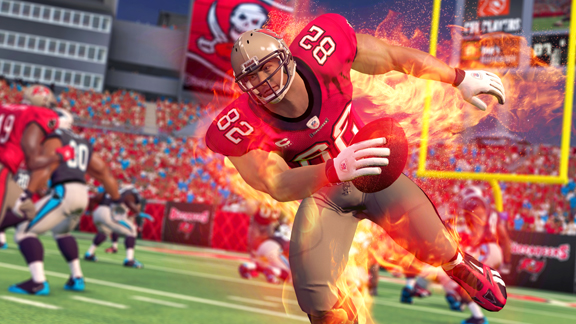 EA SportsTampa is better in "Blitz" than they are in real life.
This is a team that might be struggling in real life, but in the world of "NFL Blitz," can definitely get you some wins. LeGarrette Blount is a video-game beast, running over defenders at will and forcing opponents to look run. Then, just as they're expecting another pitch or screen to Blount, roll Freeman the opposite direction and hit Mike Williams deep or Kellen Winslow flashing open across the middle for a big gain.
OFFENSE:
Josh Freeman: QB
LeGarrette Blount: RB
Mike Williams: WR
Kellen Winslow: TE
Donald Penn: OT
Jeremy Trueblood: OT
Jeff Faine: C

DEFENSE:
Michael Bennett: DE
Adrian Clayborn: DE
Gerald McCoy: DT
Aqib Talib: CB
Ronde Barber: CB
Sean Jones: S
Geno Hayes: LB

Special Teams:
Michael Koenen: P
Connor Barth: K
ESPN ARCADE
The sequel to our most popular game is here. How's your return?

Run timed routes, beat DB's to the end zone and score.

Hit your receivers, dodge defenders and rack up TDs.