March, 1, 2012
03/01/12
3:49
PM ET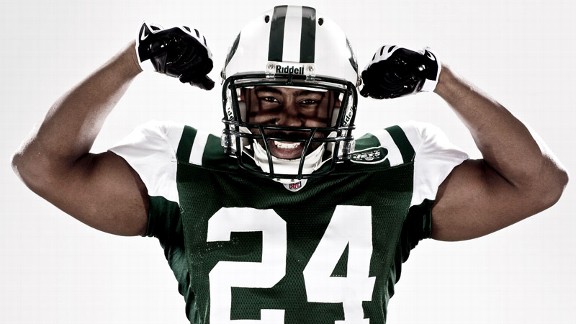 Chris McGrath/Getty ImagesIf Darrelle Revis has his way, not only will he cover "Madden 13," but the game will enhance virtual cornerbacks.
I interviewed Darrelle Revis a few years back, and one of the things he really wanted to see implemented in "Madden" was improved cornerback play.
"They need to add more jamming at the line," the shutdown corner told me. "I want to see the off-hand jam, the two-hand jam, and more interaction between the receiver and the corner. I know it's a video game, but the way some of the interaction looks right now is a bit stiff. You want to make it as true to life as possible, and all of these things make a big difference when it comes to how the routes are run. I just want to see them make more of a difference in the game by making it easier for people to perform."
And with Revis making the 64-player cut in the "Madden 13" cover vote, I'm thinking, no better time than the present to really upgrade the cornerback play in the game while featuring Revis Island on the box.
Then again, Revis will have to get enough votes first, and that's up to the fans.
Here's how the AFC East play-in round of the "Madden 13" cover vote looks:
Miami Dolphins: Reggie Bush versus Brandon Marshall
New York Jets: Mark Sanchez versus Darrelle Revis
New England Patriots: Wes Welker versus Rob Gronkowski
Buffalo Bills: Stevie Johnson versus Ryan Fitzpatrick

Out of all these players, I actually think Gronkowski has the best chance of ultimately ending up on the box. Just think, it could be the first "Madden" cover where the player isn't wearing a shirt.

Voting begins March 7. For more information, check out the official SportsNation cover vote site.
ESPN ARCADE
The sequel to our most popular game is here. How's your return?

Run timed routes, beat DB's to the end zone and score.

Hit your receivers, dodge defenders and rack up TDs.