March, 21, 2012
03/21/12
4:45
PM ET
Telling 325-pound Shaquille O'Neal to perform a jumping spin kick is just asking for trouble.
But that's what happened during the recent filming of the viral video "Duel of the Masters" starring "The Big Aristotle" and Tiger Woods. Instead of a big boot captured by Kinect, Shaq mistakenly kicked the Microsoft camera, monitor and all and sent the entire screen smashing to the ground.
Now that's what I call Shaq-Fu.
"A couple of guys who were grand masters in Taekwondo came in and taught us some moves so we could look halfway decent in the video," Woods told me when I met up with him last week at a hotel in New York.
The results? One broken screen and an old-school sports and video game mash-up Tiger refers to as "Golf-Fu" that showcases the new, hands-free controls available in "Tiger Woods PGA Tour 13" (Xbox 360). And with almost one million views to date, not even a size-22 shoe flying through a monitor can help slow down the viral video's momentum.
"The concept is that anybody can play," Woods said. "Shaq is 7-foot and he doesn't play golf, but he can play golf on Kinect. It was a challenge with him and I squaring off, and it captured the whole 'Enter the Dragon' feel. It was a lot of fun.
"Besides, I won. The big man went 'poof.'"
Jon Robinson: I've been playing through the new Tiger Legacy mode in the game, where I take control of you when you first pick up a golf club as a kid and play all the way through your entire career and even get a shot of you in the future. What's the mode like for you? It's almost like a digital version of "This is your Life."
Tiger Woods: It's going back in time for me, and it really brings back some great memories of playing in my backyard and practicing shots with my dog back there with me. Then it takes me through my junior golf days, my college stuff and then when I turned pro, which is probably more relevant to people because those moments were more televised. But to me, the amateur stuff and those junior golf days are priceless. That's where I learned how to play, and it's where a lot of my confidence comes from. A lot of the confidence I have now is because of all those wins I got as a kid.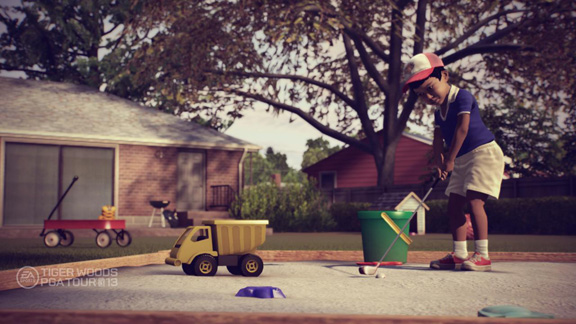 EA SportsWhen Legacy Mode begins, you'll be hitting balls as toddler Tiger.
Jon Robinson: Did your backyard really look like it does in the game, where you were aiming shots at the sandbox and into nets?
Tiger Woods: What I used to do is I'd have these solid Wiffle balls and I'd try to hit them into these three planters that we had on the other side of the roof. So I'd be on the upslope in our backyard and I'd try to hit these balls so they would land just on the corner of the roof and roll down into the planters. I then trained my dog to go lay down next to each ball. So when I'd go over there, if my ball was in a bush or if it was in my mom's Thai pepper area, my dog would be right there waiting for me. He would watch me hit balls all day.
ESPN ARCADE
The sequel to our most popular game is here. How's your return?

Run timed routes, beat DB's to the end zone and score.

Hit your receivers, dodge defenders and rack up TDs.