April, 2, 2012
04/02/12
6:49
PM ET
Ever wonder why the crowd chants in EA's "NCAA Football" franchise always just sound like a bunch of guys yelling from a garage?
"That's because it was just a bunch of guys yelling from a garage," laughs Ben Haumiller, one of the producers of the game. And while that may have sounded fine a generation ago, every gamer out there has been hollering for an audio upgrade to the series for years.
"Everything from the chants and cheers to the way the announcers sound needed improvement," says Haumiller as he gave me an early demo of "NCAA Football 13." "Some of those chants were recorded back in 2003. So this year, we finally went in and did a major overhaul of the game's audio. We were able to adapt the technology the 'FIFA' team uses in their game, and it's made all the difference."
And Haumiller's right. He plays me a clip of the crowd chanting in "NCAA Football 12," then plays the same clip from "NCAA Football 13," and the staggering quality difference was like switching between Vanilla Ice and Eminem.
One of the main reasons is the EA Sports tech team's ability to visit a variety of stadiums last year during games and record actual crowd chants, cheers, and jeers using new mics that are able to capture a richer, more dynamic sound and input it straight into the game.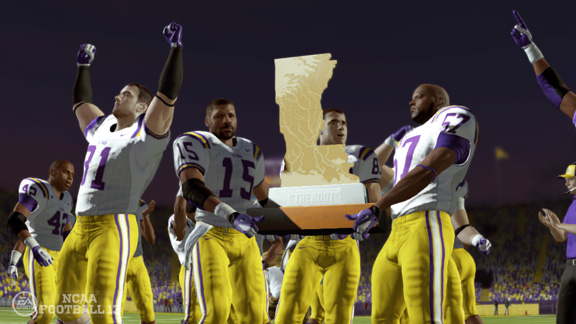 EA SportsEA Sports added a variety of new graphical and audio upgrades to "NCAA Football 13."
On top of that, the team added all new commentary that now doesn't feature long robotic pauses or breaks between words and phrases. "We learned a lot from 'FIFA' and 'NHL' and even what 'Madden' did last year, and we were really able to step up our commentary," says Haumiller.
And this year, instead of just feeding the announce team of Kirk Herbstreit and Brad Nessler scripts to repeat based off what EA thinks they should say, now this year, they finally brought the announce team into the studio, told them the situation, and let them actually ad-lib to grab a much more authentic, natural reaction.
Adds Haumiller: "Inside their headphones, we had the crowd chants and fight songs playing, just like they would be during a game, and this made them feel like they were calling a real game, not just reading something we told them to say. These guys are better when they're improvising, and that's what you'll hear in this year's game."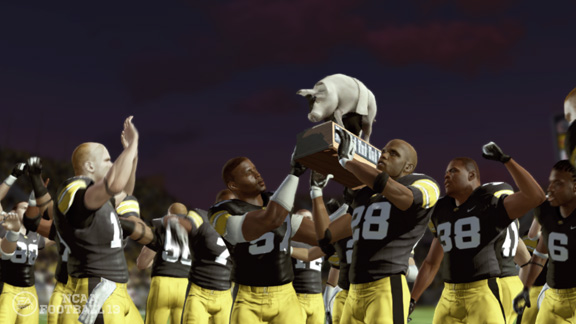 EA SportsNew trophy celebrations add to the smack talk of winning.
In terms of new graphical upgrades, the EA Sports designers continue to try and implement every single uniform combination you might see on Saturday into the game.
"College football has become a fashion show with everybody trying to one-up each other," says Haumiller. From the variety of helmets now worn by Notre Dame, to the insane number of uniform combinations worn by Oregon, they're all in the game. "Oregon has lost their minds, but in a good way," says Haumiller. "We even have that chrome look they wore during the Rose Bowl. And after Oregon, now Oklahoma State has 11 alternates you can choose from in the game. There are just so many different combinations in the game, all of those people who love to switch things up will love it. We work with the apparel companies and the schools to not only get the uniforms you saw last year, but we work with them to get some of the uniforms they are about to debut this season into the game, so we actually debut the new looks and show them off in the game before anyone sees them in real life."
Additional graphical upgrades include improved blending and lighting, enabling you to actually see the progression from day to nigh on a play-by-play basis and not just have the sky change all of a sudden after the quarter or half. New rendering adds a motion blur to runners, giving ball carriers the appearance of being faster on the field. Stadium exteriors will be shown for the first time. There are new practice fields, new high school stadiums that will showcase different regions of the country, a new, emotion-based celebration system, as well as the addition of even more NCAA traditions and trademarks, including the USC Song Girls, and authentic trophies like the Paul Bunyon Axe.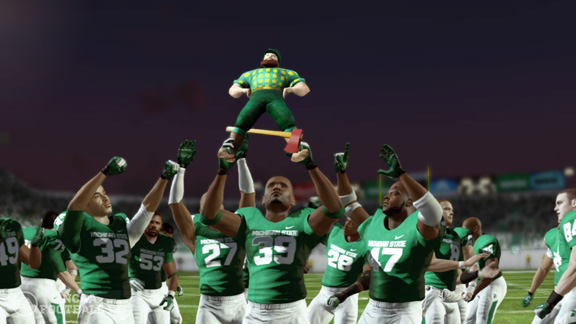 EA SportsTime to celebrate with the Paul Bunyon Axe.
"We have all of the different trophies in the game," says Haumiller. "We even have the Orange Bowl celebration where you'll see your player reach down, grab an orange and act like he's taking a bite out of it. We added a lot of really cool stuff this year. I think fans are really going to love it."
Top things off with a character straight out of EA's "Medal of Honor" series parachuting down into the stadium during the Army/Navy game, and you have some scenes that gamers are going to be talking about for a long time.
Adds Haumiller: "This year, we also tried out some new technology to scan and map stadiums down to pinpoint accuracy. We were able to go out and render North Texas and FAU down to the inch. This year was about proving the tech, and now that we've proven what the technology can do, you'll see as we move forward to Gen-4 (PlayStation 4, Xbox 720), that we'll go out and capture every stadium in the game to the exact measurements. I can't wait."
ESPN ARCADE
The sequel to our most popular game is here. How's your return?

Run timed routes, beat DB's to the end zone and score.

Hit your receivers, dodge defenders and rack up TDs.