Commentary
'Madden 10': First Screenshot Revealed
EA Sports' head promises an exciting new era for the Madden NFL franchise,
Updated:
March 24, 2009, 7:11 PM ET
By
John Dorsey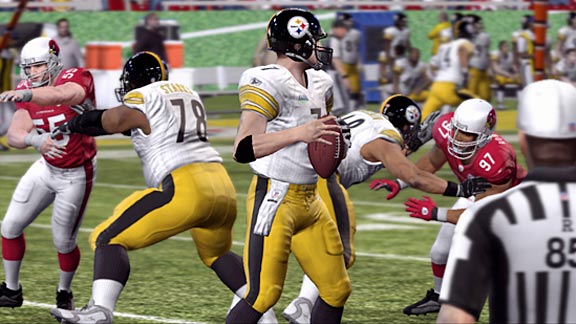 Madden NFL 10Could the first screenshot from Madden 10 hint at who will ultimately be on the cover?
Although the official release date of Madden NFL 10 is months away, eager fans of the immensely popular gridiron title got a sneak peak Monday as EA Sports President Peter Moore unveiled on his blog the first screenshot from the game and promised "the most detailed and comprehensive edition of Madden in the history of the franchise."
"We're hitting the real sweetspot of development for this generation of consoles," says Moore. "The team is really hitting its stride in squeezing every ounce of power and capability from the hardware."
The debut of the first screenshot -- which features Pittsburgh Steelers quarterback Ben Roethlisberger -- will undoubtedly ignite the annual speculation and debate among the Madden faithful as to who will grace this year's game cover and in turn incur the wrath of the Madden Curse. On this subject, Moore is somewhat cryptic.
"I've probably been asked a couple of dozen times already over the past month in interviews," Moore says. "You're not going to get any hints here from me (or are you?), but soon we'll begin highlighting a number of fine candidates ... as we build up to late April's announcement."
SPONSORED HEADLINES
ESPN TOP HEADLINES
MOST SENT STORIES ON ESPN.COM