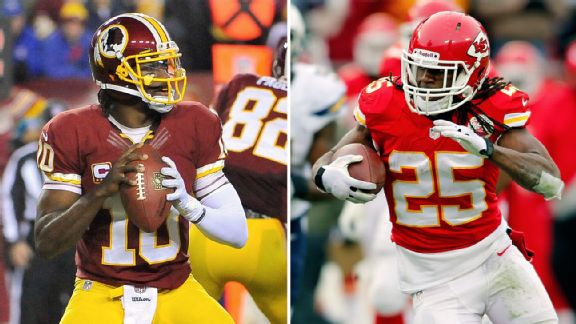 Stopping The Skid?
The 9-3 Chiefs meet the 3-9 Redskins with both teams looking to snap multi-game losing streaks. Listen


NFL Central »
Getty Images

Countdown To Kickoff
11:00 a.m. - 1:00 p.m. ET
Listen


Updates |

Deportes

NFL CENTRAL ON ESPN RADIO
NFL Central is your home for the latest audio, video and news from all 32 teams. NFL Central »
-Browns' Gordon on his two-game suspension


-Patriots' Vereen on his role within the offense


-Vikings' Peterson on Minnesota's QB situation

ESPNDeportesRadio.com

Find Tickets:
Start your search for the games you want to attend now. The best seats are at ticket center.

See all tickets
CFB CENTER ON ESPN RADIO
ESPN Radio covers all of the teams from the BCS conferences and beyond. CFB Center »
-Stanford's Shaw on prep for Pac-12 title game


-Missouri's Pinkel on transitioning to the SEC


-USC's Sarkisian on the reaction to his hiring

FEATURED COMMENT

"

Bad sports stories, such as the ones with Winston, A-Rod, PEDs, etc., are never fun.

" -- "Blink-N-Fig" in SVP & Russillo chat