Don't Give Up ESPYS V Foundation Auction
The Don't Give Up ESPYS V Foundation Auction is underwa. Bid on items and experiences right now. V Foundation
Updated:
July 23, 2008, 1:35 PM ET
ESPNRadio.com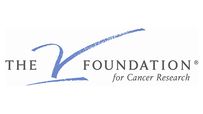 V Foundation
Last year, the Don't Give Up ESPYS V Foundation Auction raised over $820,000 thanks to your generous support. This year, in our fourth annual auction, ESPN Radio, The V Foundation and Team ESPN are hoping to make it even bigger.
Featured Experience:
Mike & Mike LIVE From Your Home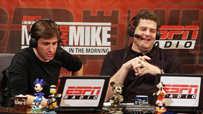 ESPN RadioGreeny and Golic could be broadcasting from your home.
Mike Greenberg and Mike Golic will broadcast their popular Mike & Mike in the Morning show from your home on ESPN Radio, ESPN2 and ESPNRadio.com. Mike & Mike will use your home or yard as their show studio for a live show broadcast on a date to be agreed upon by you and ESPN. You will have the ability to invite family and friends to help you host the national broadcast, which is seen and/or heard by nearly 12 million people every week. Mike & Mike have broadcast their popular morning program from the Super Bowl, MLB All-Star Game, NBA Finals, Indy 500, Kentucky Derby and many other prime sports venues. Add YOUR residence to their list of favorite places to broadcast a show.
For more information and to bid on this experience: Visit our eBay page
Restrictions: Auction is open to individuals 18 and older. ESPN will make final decision on where to stage the show in ESPN's sole and absolute discretion, which decision shall be final. Show shall be staged in the continental United States. ESPN will supply all of the equipment and power generators necessary to produce the Mike & Mike in the Morning show from the property of the winning bidder. This auction is open only to individuals and no other entities. ESPN and the winning bidder shall mutual agree upon show date, which must be no later than December 31, 2008. It takes a lot of equipment to put on the Mike & Mike in the Morning show, including generators and lighting and we get started early in the morning, so you might want to invite your neighbors, or at least tell them what is going on before we arrive. We will need at least 400 feet of open floor space to host the show and your bid on this item is your express acknowledgement that you have at least that much space to host the show. ESPN will begin set-up around midnight on the night before the show. ESPN will be responsible for all reasonable permits with the city or town of the winning bidder. ESPN reserves the right to invite athletes, celebrities and other media to the show site and allow for photos, audio, video and/or interviews with the winning bidder and other guest(s) in attendance before, during or after the show. The winning bidder shall be solely responsible for anything not listed in these restrictions and to the fullest extent allowed by law the winning bidder shall release ESPN Productions, Inc. and its parent, subsidiary entities and their respected agents, officers, directors, contractors and employees from any liability whatsoever including any damage to the show site. This experience is non-transferable.
About The V Foundation for Cancer Research
Was founded in 1993 by ESPN and the late Jim Valvano.  Has raised more than $70 million, and has awarded hundreds of cancer research grants nationwide for all types of cancers. Visit www.jimmyv.org for more information. Fundraising V Foundation events include Show Your Spirit (wear favorite team's apparel and in exchange make a donation to The V Foundation) and the ESPN Radio's "Don't Give Up ESPYs V Foundation Auction" which raised more than $825,000 last year. The V Foundation now awards 100 percent of all new direct cash donations and net proceeds of events directly to cancer research and related programs. The Foundation, which has received a top 4-star rating from Charity Navigator for five consecutive years, awards grants through a competitive awards process strictly supervised by a Scientific Review Committee.
About Team ESPN
Encompasses ESPN's multi-faceted corporate outreach initiatives, including volunteerism, corporate giving and cause marketing, while utilizing its diverse media assets.  Primary charitable programs include The V Foundation for Cancer Research, SportsFigures, ESPN Play Your Way and Disabled Sports.