Beadle and Berry predict the Oscars
Updated:
February 28, 2012, 9:20 AM ET
ESPNRadio.com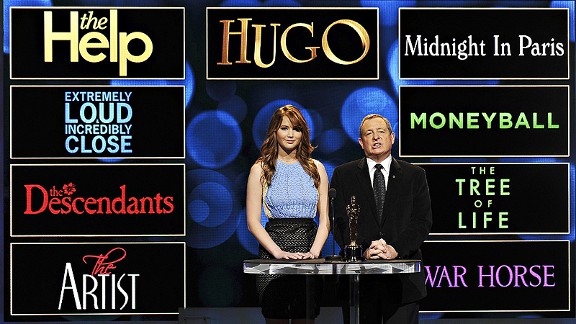 Robyn Beck/AFP/Getty ImagesAnd the Oscar goes to ...
Michelle Beadle and Matthew Berry present the best (or worst) Academy Awards preview ever. Thanks to Sports Interaction for the prop bets. Listen

Update: Matthew went 16/30 on his picks and Michelle went 11/30.
OSCAR PREDICTIONS
Michelle Beadle vs. Matthew Berry
| Category | Beadle's Pick | Berry's Pick | Winner |
| --- | --- | --- | --- |
| Original Screenplay | "The Artist" | "Midnight in Paris" | Berry |
| Adapted Screenplay | "The Descendants" | "The Descendants" | Both |
| Visual Effects | "Harry Potter and the Deathly Hallows Part 2" | "Rise of the Planet of the Apes" | None |
| Sound Mixing | "War Horse" | "Transformers: Dark Side of the Moon" | None |
| Sound Editing | "Drive" | "Transformers: Dark Side of the Moon" | None |
| Live Action Short Film | "Tuba Atlantic" | "Tuba Atlantic" | None |
| Animated Short Film | "A Morning Stroll" | "The Fantastic Flying Books of Mr. Morris" | Berry |
| Original Song | "Man or Muppet" ("The Muppets") | "Man or Muppet" ("The Muppets") | Both |
| Original Score | "Hugo" | "The Artist" | Berry |
| Makeup | "The Iron Lady" | "Harry Potter and the Deathly Hallows Part 2" | Beadle |
| Foreign Language Film | "In Darkness" | "A Separation" | Berry |
| Film Editing | "The Artist" | "The Girl with the Dragon Tattoo" | Berry |
| Documentary Short | "Incident in New Baghdad" | "God is the Bigger Elvis" | None |
| Documentary Feature | "Undefeated" | "Paradise Lost 3: Purgatory" | Beadle |
| Directing | "The Artist" | "The Artist" | Both |
| Costume Design | "The Artist" | "The Artist" | Both |
| Cinematography | "The Tree of Life" | "War Horse" | |
| Art Direction | "The Artist" | "Harry Potter and the Deathly Hallows Part 2" | None |
| Animated Feature | "Puss in Boots" | "Rango" | Berry |
| Supporting Actress | Octavia Spencer in "The Help" | Melissa McCarthy in "Bridesmaids" | Beadle |
| Supporting Actor | Max von Sydow in "Extremely Loud and Incredibly Close" | Christopher Plummer in "Beginners" | Berry |
| Lead Actress | Michelle Williams in "My Week with Marilyn" | Meryl Streepy in "The Iron Lady" | Berry |
| Lead Actor | Jean Dujardin in "The Artist" | George Clooney in "The Descendants" | Beadle |
| Will Miss Piggy assault anyone on stage? | Yes | No | Berry |
| Miss Piggy's dress color? | Black | Red | None |
| Who will Best Actress winner thank first? | Other | Academy | None |
| Lead/Supporting Actor swear during speech? | Yes | No | Beadle |
| Lead/Supporting Actress cry during speech? | Yes | Yes | Both |
| Will any of the main winners drop the Oscar? | No | No | Both |
| Best Picture | "The Descendants" | "The Artist" | Berry |
MOST SENT STORIES ON ESPN.COM