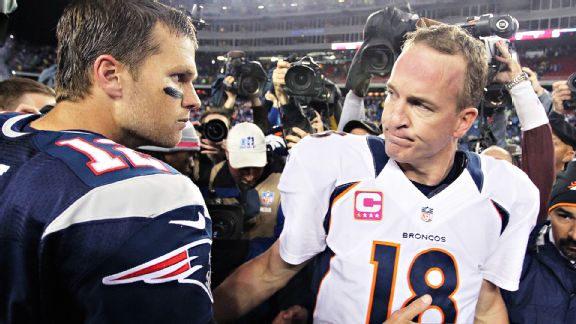 Stew Milne/USA TODAY SportsTony Dungy tells the guys about the Broncos-Patriots QB matchup, the Broncos' offense and more.
• Two-time Super Bowl champion Tony Dungy weighs in on how Peyton Manning and Tom Brady approach a matchup against each other, how to defend Brady, the Broncos' offense, the way officials call the game and more. Dungy

• Super Bowl XXXV champion Brian Billick discusses how coaches deal with distractions, Lions-Steelers, Ben Roethlisberger's future, Broncos-Patriots and more. Billick

• Pro Football Hall of Famer Howie Long talks about watching his sons play each other in Bears-Rams, how his kids handle the matchup, the way his family deals with football's physicality and more. Long

BEST OF MIKE & MIKE PODCAST
JAYSON STARK'S MLB TRIVIA
Nelson Cruz could become the fourth player since 2010 to achieve back-to-back seasons with 40 home runs. Who are the other three? Listen

FRANK CALIENDO
Our favorite moments with Frank Caliendo:
-Watch: 'A Visit from St. Nicholas'


-Watch: William Shatner


-Listen: #GolicButtPhoto voicemails


-Watch: Donald Trump


-Listen: Trick-or-Treat


-Watch: Stephen A. Smith


-Watch: Mel Kiper Jr.


-Watch: Charles Barkley


-Watch: Allen Iverson's rant


-Watch: Remembering Robin Williams


-Watch: LeBron James' letter

OFF-MIKES EPISODES
View episodes of ESPN.com's first Emmy winner, "Off-Mikes," a series based on the interactions of Greeny and Golic on "Mike & Mike."
-"Snook, Line and Sinker"


-"Wee-Wee Mon Sewer"


-"Raging Bull-Oney"


-"Bend It Like Golic"


-"The Wettest Yard"


-"Pomp You Up"


-"Throw Momma from the Chair"


-"Air Force Ton"


-"Night of the Living Chippers"

BEST OF MIKE & MIKE ON ESPN RADIO: OLD SPORTS