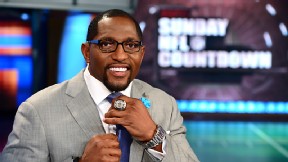 Joe Faraoni/ESPN ImagesThe guys will be joined by Ray Lewis.
Golic and Ryan Ruocco welcome Super Bowl XXXV champion
Brian Billick (6:30 a.m. ET)
, ESPN NFL analyst
Ron Jaworski (8:15)
, ESPN NFL draft Insider
Todd McShay (8:45)
and ESPN NFL analyst
Ray Lewis (9:30)
to the show on Friday.
Get in touch with Mike & Mike by emailing (mikeandmike@espnradio.com), texting (73776) or tweeting (@MikeAndMike) the guys -- we will be with you from 6-10 a.m. ET. Follow all of the action on ESPN2, ESPN Radio or ESPNRadio.com.
MikeAndMike

Mike & Mike


Really? Sounds fun RT "@PittsburghsCW: Wanna win a romantic getaway to Hollywood? Watch @MikeAndMike tonight at 6 & 630 on Pittsburgh's CW"
about an hour ago

MikeAndMike

Mike & Mike


Earlier, @OU_Football HC Bob Stoops talked about his #4 ranked Sooners trying to live up to the preseason hype http://t.co/ZhegCVCKWe
about an hour ago

Espngreeny

Mike Greenberg


No, it ins't...RT "@StinaSternberg: Autocorrect is the worst invention of all time..."
about 3 hours ago

MikeAndMike

Mike & Mike


RIGHT NOW: @OU_Football HC Bob Stoops join the guys -- LISTEN LIVE --> http://t.co/eKCR2pVKhF
about 4 hours ago

MikeAndMike

Mike & Mike


Which city w/ the 4 major sports boasts the best quartet (one from each sport)? For example: Boston - Russell, Brady, Orr & Ted Williams
about 6 hours ago

MikeAndMike

Mike & Mike


Vote in our morning poll question: Which wild-card winner has the best chance to make the World Series? VOTE HERE: http://t.co/lhzx2Ok2eX
about 7 hours ago

MikeAndMike

Mike & Mike


Former Raiders QB Rich Gannon says the teams players/personnel "stealing paychecks." Is there a worse mess in sports than the Raiders?
about 7 hours ago

MikeAndMike

Mike & Mike


Still to come this morning...730 ET @CoachBillick 830 Joe @Buck 9-10 @markschlereth & 930 @OU_Football HC Bob Stoops http://t.co/eKCR2pVKhF
about 7 hours ago

MikeAndMike

Mike & Mike


Still to come thing morning...730 ET @CoachBillick 830 Joe @Buck 9-10 @markschlereth & 930 @OU_Football HC Bob Stoops http://t.co/eKCR2pVKhF
about 7 hours ago

FXFL

FXFL


Football for everyone. #FXFL http://t.co/3KUCPK6sxT
about 19 hours ago

espngolic

Mike Golic


"@atr7464: coldstone creamery should have delivery" amen
about 19 hours ago

espngolic

Mike Golic


Hey @MrJakeJohnson great episode last night, loved the sponge commercial at the end
about 20 hours ago

MikeAndMike

Mike & Mike


POD: Mike & Mike discuss the Royals' win, the mess at Michigan and chat with Jon Gruden, J.J. Watt and Mack Brown: http://t.co/dx7L9NOgH8
about 22 hours ago

StacyGSG

StacyGSGreenberg


I've figured it out! Problem with #Patriots is they got the #KOD when Tom Brady copied Greeny's beard! http://t.co/LuzFuw7TYp
about 23 hours ago

Espngreeny

Mike Greenberg


Since last time #Royals made postseason: #Kings moved to Sacramento, #Chiefs won 3 playoff games, and I graduated high school. #worththewait
1 day ago

Espngreeny

Mike Greenberg


No sports fans deserved last night more than those in Kansas City. I hope the #Royals go all the way. #MLBPlayoffs
1 day ago

Espngreeny

Mike Greenberg


I think if we switched Tom Brady and Peyton Manning, their offenses would look very much the same as they have this year.#Patriots #Broncos
1 day ago

Espngreeny

Mike Greenberg


Bill can be as Belichick-y as he wants. But truth is he left cupboard bare for Brady. Great coach, but deserves the criticism. #Patriots
1 day ago

Espngreeny

Mike Greenberg


To me, thus far the most valuable player in the NFL has been JJ Watt. If #Texans win that division, he should get serious consideration.
1 day ago

Espngreeny

Mike Greenberg


Sending positive thoughts.RT "@ShelleyESPN: I now join the one in eight women battling ***** cancer. Early detection will save my life."
1 day ago
NCAA TOURNAMENT BET PAYOFFS
Mike Greenberg completes the latest installment of the guys' bracket wager payoff. Photos


Watch: Greeny Milks a Cow


Watch: Greeny Gets Waxed


Watch: Greeny Competitively Eats


Watch: Greeny Sings Vanilla Ice

JAYSON STARK'S MLB TRIVIA
Former Twins skipper Ron Gardenhire managed 2,107 games without winning a World Series. Only two active managers have managed more than 1,800 games without capturing an MLB championship. Who are they? Listen

BEST OF MIKE & MIKE ON ESPN RADIO: SHOW PREVIEW JANUARY 3, 2014