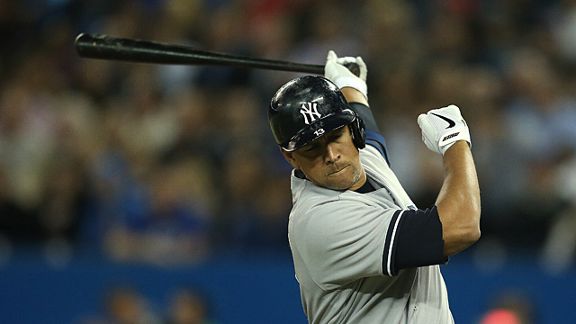 Steve Russell/Toronto Star via Getty ImagesBuster Olney tells Golic, Cris Carter and Jorge Sedano about the future of Alex Rodriguez and more.
• ESPN MLB Insider Buster Olney dishes on the reduction of Alex Rodriguez's suspension to 162 games, what comes next for Rodriguez and the Yankees and more. Olney

• ESPN legal analyst Lester Munson explains why it is unlikely that a federal court will intervene in arbitrator Fredric Horowitz's decision regarding Alex Rodriguez's suspension and more. Munson

• ESPN New York 98.7 FM's Michael Kay weighs in on Alex Rodriguez's year-long ban, A-Rod's future, how the Yankees will approach his suspension and more. Kay



Russillo & Kanell
1:00 p.m. - 4:00 p.m. ET
Listen


Updates |

Deportes

BEST OF MIKE & MIKE PODCAST
ELIMINATOR CHALLENGE
This season, play against Greeny, Golic and the Mike & Mike staff in the show's Eliminator Challenge group. Eliminator Challenge »
JAYSON STARK'S MLB TRIVIA
David Wright is one of four active players who have spent the last 12 seasons with the same team. Who are the other three? Listen

FRANK CALIENDO
Our favorite moments with Frank Caliendo:
-Watch: 'A Visit from St. Nicholas'


-Watch: William Shatner


-Listen: #GolicButtPhoto voicemails


-Watch: Donald Trump


-Listen: Trick-or-Treat


-Watch: Stephen A. Smith


-Watch: Mel Kiper Jr.


-Watch: Charles Barkley


-Watch: Allen Iverson's rant


-Watch: Remembering Robin Williams


-Watch: LeBron James' letter

OFF-MIKES EPISODES
View episodes of ESPN.com's first Emmy winner, "Off-Mikes," a series based on the interactions of Greeny and Golic on "Mike & Mike."
-"Snook, Line and Sinker"


-"Wee-Wee Mon Sewer"


-"Raging Bull-Oney"


-"Bend It Like Golic"


-"The Wettest Yard"


-"Pomp You Up"


-"Throw Momma from the Chair"


-"Air Force Ton"


-"Night of the Living Chippers"

BEST OF LOSING A WHOLE YEAR