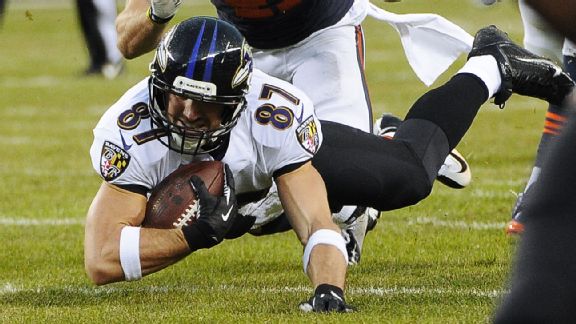 David Banks/Getty ImagesDallas Clark tells the guys about what Jim Caldwell will bring to his job with the Lions and much more.
• Ravens TE Dallas Clark chats about the qualities former Ravens OC Jim Caldwell will bring to his new job as coach of the Lions and lends insight into what it's like to play with Peyton Manning in a big game. Clark

• Monday Night Football's Jon Gruden shares his thoughts on the extent of the Lions' coaching search, Matthew Stafford's strengths and weaknesses, anticipated game plans for this weekend's conference championship matchups and more. Gruden

• ESPN NFL analyst Antonio Pierce discusses how defenses prepare for mobile QBs, the most effective way to defend Peyton Manning, the impact of Chris Harris' injury and more. Pierce

• NFL Network's Steve Mariucci talks about what he thinks will be the deciding factor in 49ers-Seahawks, Seattle's offense, the riskiness of the zone-read, the Brady-Manning rivalry and more. Mariucci


Freddie Coleman Show
10:00 p.m. - 1:00 a.m. ET
Listen


Updates |

Deportes

NCAA TOURNAMENT BET PAYOFFS
Mike Greenberg completes the latest installment of the guys' bracket wager payoff. Photos


Watch: Greeny Milks a Cow


Watch: Greeny Gets Waxed


Watch: Greeny Competitively Eats


Watch: Greeny Sings Vanilla Ice

WERNER LADDERS BRACKET CHALLENGE
BEST OF FITTING THE BILL?