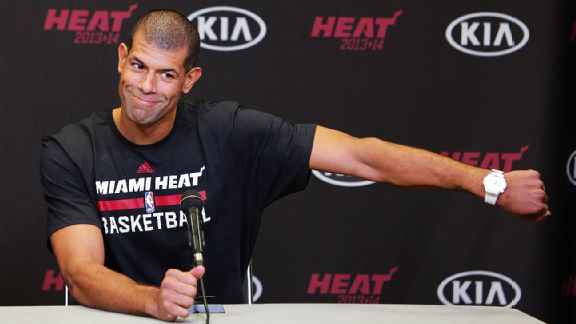 Alexander Tamargo/Getty ImagesShane Battier tells the guys about the Heat's season, potentially facing the Nets and much more.
• Heat F Shane Battier dishes on what he would change about the NCAA, compensation for student-athletes, Miami's season, the Big Three's future, potentially facing the Nets in the playoffs and more. Battier

• Thunder coach Scott Brooks covers the path his team must take to reach the NBA Finals, Kendrick Perkins' impact on Oklahoma City, the upcoming matchup against the Grizzlies and more. Brooks

• ESPN NBA analyst Jon Barry weighs in on Warriors-Clippers, whether Blake Griffin flops, the lack of respect for the Raptors, the outlook for the Heat and more. Barry

BEST OF MIKE & MIKE PODCAST
JAYSON STARK'S MLB TRIVIA
Adrian Beltre is one of three active players with at least 300 home runs and four Gold Gloves. Who are the other two individuals? Listen

FRANK CALIENDO
Our favorite moments with Frank Caliendo:
-Watch: 'A Visit from St. Nicholas'


-Watch: William Shatner


-Listen: #GolicButtPhoto voicemails


-Watch: Donald Trump


-Listen: Trick-or-Treat


-Watch: Stephen A. Smith


-Watch: Mel Kiper Jr.


-Watch: Charles Barkley


-Watch: Allen Iverson's rant


-Watch: Remembering Robin Williams


-Watch: LeBron James' letter

OFF-MIKES EPISODES
View episodes of ESPN.com's first Emmy winner, "Off-Mikes," a series based on the interactions of Greeny and Golic on "Mike & Mike."
-"Snook, Line and Sinker"


-"Wee-Wee Mon Sewer"


-"Raging Bull-Oney"


-"Bend It Like Golic"


-"The Wettest Yard"


-"Pomp You Up"


-"Throw Momma from the Chair"


-"Air Force Ton"


-"Night of the Living Chippers"

BEST OF GUNNING FOR A THREE-PEAT