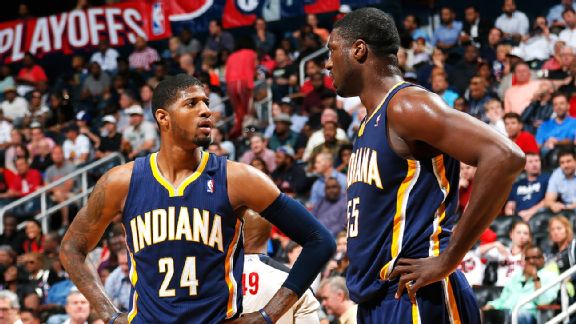 Kevin C. Cox/Getty ImagesDan Dakich tells the guys about the Pacers' recent improvement, Roy Hibbert's play and much more.
• ESPN's Dan Dakich covers the state of the Pacers, Roy Hibbert's performance in Game 7 against the Hawks, the Indiana-Washington matchup, the Nets' chances to beat the Heat and more. Dakich

• Pro Football Hall of Famer Bill Parcells discusses his conversation with Steve Kerr regarding coaching, the tendency for teams to overdraft QBs, celebrity QBs, Jadeveon Clowney's potential and more. Parcells

NCAA TOURNAMENT BET PAYOFFS
Mike Greenberg completes the latest installment of the guys' bracket wager payoff. Photos


Watch: Greeny Milks a Cow


Watch: Greeny Gets Waxed


Watch: Greeny Competitively Eats


Watch: Greeny Sings Vanilla Ice

JAYSON STARK'S MLB TRIVIA
Todd Helton played all of his major league seasons with the Rockies. Three active players have remained with the same team for at least 12 seasons. Who are these individuals? Listen

BEST OF RISING FROM THE ASHES?