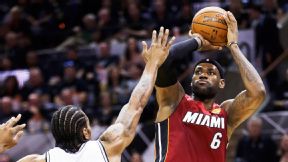 AP Photo/Eric GayThe guys will react to the Heat's win in Game 2.
Greeny and Golic welcome ESPN NBA analyst
Jon Barry (7:10 a.m. ET)
, TNT's
Charles Barkley (8:10)
, NBC's
Bob Costas (8:30 a.m. ET)
and FOX's
Kenny Albert (9:10)
to the show on Monday from Miami.
Get in touch with Mike & Mike by emailing (mikeandmike@espnradio.com) or tweeting (@MikeAndMike) the guys -- we will be with you from 6-10 a.m. ET. Follow all of the action on ESPNEWS, ESPN Radio or ESPNRadio.com.

The Dan Le Batard Show
4:00 p.m. - 7:00 p.m. ET
Listen


Updates |

Deportes

MikeAndMike

Mike & Mike


POD: Mike & Mike discuss the Royals' win, the mess at Michigan and chat with Jon Gruden, J.J. Watt and Mack Brown: http://t.co/dx7L9NOgH8
36 minutes ago

StacyGSG

StacyGSGreenberg


I've figured it out! Problem with #Patriots is they got the #KOD when Tom Brady copied Greeny's beard! http://t.co/LuzFuw7TYp
about an hour ago

Espngreeny

Mike Greenberg


Since last time #Royals made postseason: #Kings moved to Sacramento, #Chiefs won 3 playoff games, and I graduated high school. #worththewait
about 2 hours ago

Espngreeny

Mike Greenberg


No sports fans deserved last night more than those in Kansas City. I hope the #Royals go all the way. #MLBPlayoffs
about 3 hours ago

Espngreeny

Mike Greenberg


I think if we switched Tom Brady and Peyton Manning, their offenses would look very much the same as they have this year.#Patriots #Broncos
about 3 hours ago

Espngreeny

Mike Greenberg


Bill can be as Belichick-y as he wants. But truth is he left cupboard bare for Brady. Great coach, but deserves the criticism. #Patriots
about 3 hours ago

Espngreeny

Mike Greenberg


To me, thus far the most valuable player in the NFL has been JJ Watt. If #Texans win that division, he should get serious consideration.
about 3 hours ago

Espngreeny

Mike Greenberg


Sending positive thoughts.RT "@ShelleyESPN: I now join the one in eight women battling ***** cancer. Early detection will save my life."
about 4 hours ago

MikeAndMike

Mike & Mike


Did you miss former Texas HC Mack Brown? He defends Brady Hoke & explains how he might have missed Morris' injury http://t.co/qyuByHYaKW
about 4 hours ago

ShaneMorris_7

Shane Morris


I just want to play football.
about 7 hours ago

dannykanell

Danny Kanell


@Espngreeny and i GUARANTEE you students wouldn't be protesting if team is 5-0.
about 7 hours ago

dannykanell

Danny Kanell


@Espngreeny it's not that it shouldn't matter but it is a fact. This is being used as a tool to get Hoke fired. Wouldn't be discussed if 5-0
about 7 hours ago

MikeAndMike

Mike & Mike


#mobilsuper STARK TRIVIA: w/ the Twins firing Gardenhire..only 2 active mgrs have managed at least 1800 games w/out a WS title. Name them.
about 8 hours ago

MikeAndMike

Mike & Mike


Should @JJWatt be considered for the NFL MVP? Plus does he want to play more on offense? He answers NOW http://t.co/eKCR2pVKhF
about 8 hours ago

MikeAndMike

Mike & Mike


College Gameday's @KirkHerbstreit joins the guys NOW w/ his take on Michigan & Brady Hoke..plus a good wknd of games http://t.co/eKCR2pVKhF
about 8 hours ago

Espngreeny

Mike Greenberg


My new book is called MY FATHER'S WIVES. Available for pre-order, including signed, personalized copies, here: http://t.co/Gx1bRQ0DPc.
about 8 hours ago

sophietuna

Christian Perez


@Espngreeny @espngolic @MikeAndMike http://t.co/L7ZpVL7jIi
about 8 hours ago

MikeAndMike

Mike & Mike


Still to come this morning: More on the #Royals huge win, 710 ET Jon Gruden, 8:10 @KirkHerbstreit, 830 @JJWatt, 845 @tigers mgr Brad Ausmus
about 9 hours ago

MikeAndMike

Mike & Mike


POD: Chiefs blowout the Pats (is the dynasty over?), issues for Michigan & Raiders, plus Paul Konerko & Cris Carter: http://t.co/p5VVXoR5tU
1 day ago

NDmom

christine golic


"@accesshollywood: Liam Neeson's #Taken3 Trailer Debuts: http://t.co/iZut2knMW4 #Tak3n"who can say no to more Liam Neeson?
1 day ago
NCAA TOURNAMENT BET PAYOFFS
Mike Greenberg completes the latest installment of the guys' bracket wager payoff. Photos


Watch: Greeny Milks a Cow


Watch: Greeny Gets Waxed


Watch: Greeny Competitively Eats


Watch: Greeny Sings Vanilla Ice

JAYSON STARK'S MLB TRIVIA
Former Twins skipper Ron Gardenhire managed 2,107 games without winning a World Series. Only two active managers have managed more than 1,800 games without capturing an MLB championship. Who are they? Listen

BEST OF MIKE & MIKE ON ESPN RADIO: SHOW PREVIEW JUNE 9, 2014