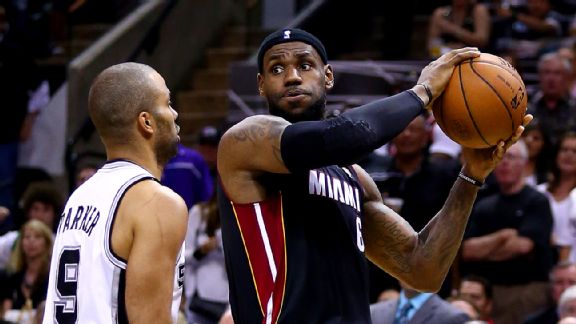 Andy Lyons/Getty ImagesJon Barry tells the guys about LeBron James' performance in Game 2 of the NBA Finals and more.
• ESPN NBA analyst Jon Barry discusses LeBron James' performance in Game 2 of the Finals, Chris Bosh's impact in the game and Kawhi Leonard's effectiveness against James. Barry

• TNT's Charles Barkley covers flopping in the NBA, the turning point in Game 2 of the Finals, how the Spurs should defend LeBron James and the criticism James received regarding his cramps. Barkley

• NBC's Bob Costas offers his insight on the outcomes of Games 1 and 2 of the NBA Finals, the criticism of athletes on social media and the structure of the Triple Crown. Costas


The Dan Le Batard Show
4:00 p.m. - 7:00 p.m. ET
Listen

|
Watch


Updates |

Deportes

MIKE & MIKE'S 15TH ANNIVERSARY
MIKES & WIVES
The wives of Greeny and Golic, Stacy Greenberg and Christine Golic, join the guys to reflect on the past 15 years of "Mike & Mike." Listen

#GOLICBUTTPHOTO SHIRT
Muze Clothing has created a shirt featuring the infamous #GolicButtPhoto. All proceeds benefit the South Bend Center for the Homeless. More »
FRANK CALIENDO
Our favorite moments with Frank Caliendo:
-Watch: 'A Visit from St. Nicholas'


-Watch: William Shatner


-Listen: #GolicButtPhoto voicemails


-Watch: Donald Trump


-Listen: Trick-or-Treat


-Watch: Stephen A. Smith


-Watch: Mel Kiper Jr.


-Watch: Charles Barkley


-Watch: Allen Iverson's rant


-Watch: Remembering Robin Williams


-Watch: LeBron James' letter