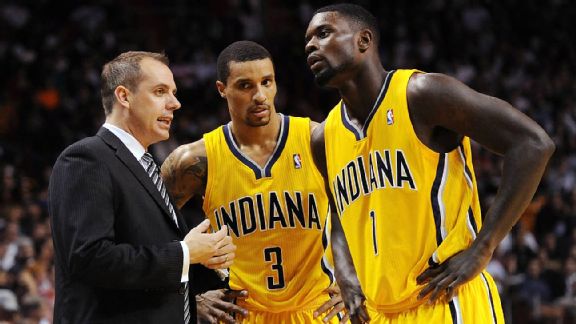 Steve Mitchell/USA TODAY SportsFrank Vogel tells the guys about addressing Lance Stephenson's antics, the Pacers' season and more.
• Pacers coach Frank Vogel comments on his team's collapse after the NBA All-Star Game, Lance Stephenson's antics, Andrew Bynum's impact and defending LeBron James. Vogel

• ESPN NBA analyst Hubie Brown discusses the Spurs' offense in Game 3 of the NBA Finals, Chris Bosh's offensive touches in the game and flopping in the league. Brown

BEST OF MIKE & MIKE PODCAST
JAYSON STARK'S MLB TRIVIA
Albert Pujols has now achieved 500 home runs and 100 steals. Who are the other two active players with 400 homers and 100 steals? Listen

FRANK CALIENDO
Our favorite moments with Frank Caliendo:
-Watch: 'A Visit from St. Nicholas'


-Watch: William Shatner


-Listen: #GolicButtPhoto voicemails


-Watch: Donald Trump


-Listen: Trick-or-Treat


-Watch: Stephen A. Smith


-Watch: Mel Kiper Jr.


-Watch: Charles Barkley


-Watch: Allen Iverson's rant


-Watch: Remembering Robin Williams


-Watch: LeBron James' letter

OFF-MIKES EPISODES
View episodes of ESPN.com's first Emmy winner, "Off-Mikes," a series based on the interactions of Greeny and Golic on "Mike & Mike."
-"Snook, Line and Sinker"


-"Wee-Wee Mon Sewer"


-"Raging Bull-Oney"


-"Bend It Like Golic"


-"The Wettest Yard"


-"Pomp You Up"


-"Throw Momma from the Chair"


-"Air Force Ton"


-"Night of the Living Chippers"