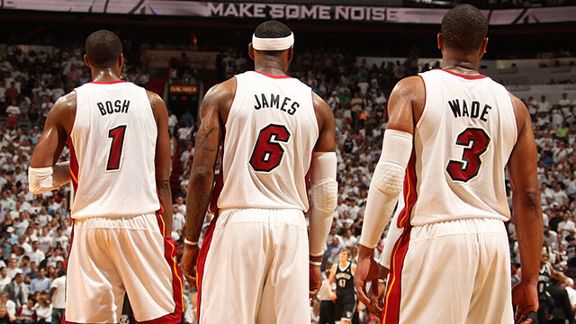 Issac Baldizon/NBAE/Getty ImagesBrian Windhorst tells Golic and The Coach about whether the Big Three will break up and much more.
• ESPN NBA Insider Brian Windhorst covers how LeBron James' impending choice affects the Rockets, whether James and Carmelo Anthony could team up in Miami and Dwyane Wade's future. Windhorst

• ESPN NBA analyst Tom Penn talks about the Rockets' offer to Chris Bosh, the Cavaliers' moves to entice LeBron James, what the Bulls could offer Carmelo Anthony and Pau Gasol's fit with Chicago. Penn

• ESPN New York 98.7 FM's Stephen A. Smith weighs in on Carmelo Anthony's future, the NBA free-agency standstill and whether LeBron James owes it to Chris Bosh to make a decision. Smith

• Basketball Hall of Famer Isiah Thomas gives his take on LeBron James' handling of free agency, Carmelo Anthony's looming decision and top players' responsibility to request larger contracts. Thomas

#GOLICBUTTPHOTO SHIRT
Muze Clothing has created a shirt featuring the infamous #GolicButtPhoto. All proceeds benefit the South Bend Center for the Homeless. More »
FRANK CALIENDO
Our favorite moments with Frank Caliendo:
-Watch: 'A Visit from St. Nicholas'


-Watch: William Shatner


-Listen: #GolicButtPhoto voicemails


-Watch: Donald Trump


-Listen: Trick-or-Treat


-Watch: Stephen A. Smith


-Watch: Mel Kiper Jr.


-Watch: Charles Barkley


-Watch: Allen Iverson's rant


-Watch: Remembering Robin Williams


-Watch: LeBron James' letter

BEST OF AND THEN THERE WAS ONE?