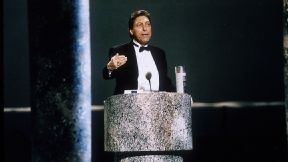 Anita and Steve Shevett/ESPNDon't give up. Don't ever give up.
It's the 10th annual ESPY Day Auction to benefit The V Foundation for Cancer Research!
Greeny and Golic welcome ESPN's Mike Tirico (6:45 a.m. ET), ESPN CBB analyst Dick Vitale (7:00), ABC's Robin Roberts (7:30), Pro Football Hall of Famer Jim Kelly (8:10) and Sporting News' Craig Sager Jr. (9:00) to the show on Wednesday.
Get in touch with Mike & Mike by emailing (mikeandmike@espnradio.com) or tweeting (@MikeAndMike) the guys -- we will be with you from 6-10 a.m. ET. Follow all of the action on ESPN2, ESPN Radio or ESPNRadio.com.
STONE COLD LEAD PIPE LOCKS
MikeAndMike

Mike & Mike


How the Eagles beat the Colts, the Vikings' mishandling of Adrian Peterson and visits w/ Jim Turner & Eric Winston: http://t.co/OX51mMms7L
about 3 hours ago

adbrandt

Andrew Brandt


Guess we can cross @rihanna off the list of potential Super Bowl halftime acts...
about 3 hours ago

Espngreeny

Mike Greenberg


This is Mrs Greeny's new feature. You'll recognize her first interview. Hint: He played to win the game.@StacyGSGhttp://t.co/1TdO0Z1OQS
about 3 hours ago

michaelsmith

Michael Smith


If you would be so kind, please listen to this @hisherspodcast. We peel back the layers to the Adrian Peterson story http://t.co/91GM1xLnPC
about 5 hours ago

MikeAndMike

Mike & Mike


At 910 ET we'll ask NFLPA President @ericwinston why the union has been so quiet on domestic violence -- LISTEN LIVE: http://t.co/eKCR2pVKhF
about 6 hours ago

MikeAndMike

Mike & Mike


.@criscarter80 joins the guys for the remainder of the show with his take on everything on and off the field http://t.co/eKCR2pVKhF
about 7 hours ago

MikeAndMike

Mike & Mike


Reminder: Tomorrow we'll be talking w/ MNF's Jon Gruden...make sure you get in your music request for #GrudensGroove thanks to @5hourenergy
about 7 hours ago

RobertJColeman

Robert J. Coleman


@Espngreeny honestly Greeny everyone is tired of these non football topics. Put soapbox away and get back to sports- signed, Everyone
about 8 hours ago

MikeAndMike

Mike & Mike


Coming up @ 7AM ET - Fmr Dolphins OL Coach Jim Turner speaks for the 1st time since the Incognito situation last year http://t.co/eKCR2pVKhF
about 8 hours ago

Espngreeny

Mike Greenberg


Of the teams that have begun 0-2, history says only one will make the playoffs. Which will it be? #MikeAndMike
about 8 hours ago

MikeAndMike

Mike & Mike


Of the 0-2 teams (NO, KC, INDY, OAK, JAX, NYG, TB) which one(s) will make the playoffs?
about 8 hours ago

MikeAndMike

Mike & Mike


TODAY: Eagles comeback win vs Colts, 7 ET fmr Dolphins OL Coach Jim Turner, 8 @criscarter80, 810 @jemelehill, 910 NFLPA Pres @ericwinston
about 9 hours ago

Espngreeny

Mike Greenberg


Paul George is 24.RT "@MikeDunleavySr: Owners have concerns about injuries playing for USA in off season. Should we limit age to 26?"
about 21 hours ago

MikeAndMike

Mike & Mike


PODCAST: NFL Week 2 and off the field concerns, such as Adrian Peterson's future. Plus Mike Ditka & Cris Carter: http://t.co/L5xNG3U9Bh
about 22 hours ago

MikeAndMike

Mike & Mike


What's the biggest surprise this NFL season? VOTE HERE --> http://t.co/y6X8m1561K
1 day ago

jchandler_33

Jacob Chandler


@Espngreeny All they really have to answer for is profit, right?
1 day ago

Espngreeny

Mike Greenberg


The NFL is better at making money than any business I am aware of. The question they have to answer now is this: What do you stand for?
1 day ago

MikeAndMike

Mike & Mike


Is Kirk Cousins a better option for Washington than RG3? We'll ask our QB expert @jawsespn next http://t.co/eKCR2pVKhF
1 day ago

MikeAndMike

Mike & Mike


The coach, Mike Ditka, joins the guys with his take on the Bears big win, injuries & off the field issues http://t.co/eKCR2pVKhF
1 day ago

MikeAndMike

Mike & Mike


Give us your good, bad and ugly for Week 2 in the NFL using #GoodBadUgly
1 day ago
NCAA TOURNAMENT BET PAYOFFS
Mike Greenberg completes the latest installment of the guys' bracket wager payoff. Photos


Watch: Greeny Milks a Cow


Watch: Greeny Gets Waxed


Watch: Greeny Competitively Eats


Watch: Greeny Sings Vanilla Ice

JAYSON STARK'S MLB TRIVIA
Adam Dunn is one of three players in MLB who have achieved four or more seasons with 40 home runs. Who are the other two? Listen

BEST OF MIKE & MIKE ON ESPN RADIO: SHOW PREVIEW JULY 16, 2014