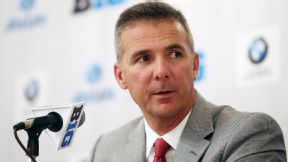 Jerry Lai/USA TODAY SportsOhio State's Urban Meyer will join the show.
Jorge Sedano and Herm Edwards welcome MLB Network's
Tom Verducci (7:30 a.m. ET)
, ESPN NFL analyst
Jerome Bettis (8:10)
, ESPN MLB Insider
Tim Kurkjian (8:30)
, Northwestern coach
Pat Fitzgerald (9:10)
and Ohio State coach
Urban Meyer (9:30)
to the show on Thursday.
Get in touch with Mike & Mike by emailing (mikeandmike@espnradio.com) or tweeting (@MikeAndMike) the guys -- we will be with you from 6-10 a.m. ET. Follow all of the action on ESPN2, ESPN Radio or ESPNRadio.com.
MikeAndMike

Mike & Mike


"The hit on Nick Foles that Chris Baker had, we used to hunt those up all the time. We'd get $100 for them." - Golic
3 minutes ago

MikeAndMike

Mike & Mike


Greeny says the Bengals are the best team in the NFL right now...are you buying in?
14 minutes ago

Espngreeny

Mike Greenberg


Ballgame in Philly. Love #Eagles throwing a pass. Coaching to win the game.
about 14 hours ago

Espngreeny

Mike Greenberg


Quadbox!!!! http://t.co/ZC9jzEDt0E
about 14 hours ago

Espngreeny

Mike Greenberg


Not saying starting Bortles is wrong move. But when you abandon your stated plan 10 quarters into your season, you look ridiculous. #Jaguars
about 14 hours ago

Espngreeny

Mike Greenberg


Touchdown Washington. What a game.
about 14 hours ago

Espngreeny

Mike Greenberg


What a terrible loss for #Browns. How many ways can you give a game away?
about 14 hours ago

Espngreeny

Mike Greenberg


Can you believe that? #Raiders #Patriots
about 14 hours ago

Espngreeny

Mike Greenberg


#Raiders!!!!!
about 15 hours ago

Espngreeny

Mike Greenberg


How 'bout them #Cowboys!!
about 15 hours ago

Espngreeny

Mike Greenberg


Reggie Bush!!!! #Lions
about 15 hours ago

Espngreeny

Mike Greenberg


#Lions offense with yet another chance at some separation. Time is now, Matt Stafford.
about 15 hours ago

Espngreeny

Mike Greenberg


My #KOD works in real time. Wow. #Browns
about 15 hours ago

Espngreeny

Mike Greenberg


How 'bout them #Browns!!
about 15 hours ago

Espngreeny

Mike Greenberg


Those are two good teams playing this afternoon in Seattle. But, right now, the best team in the NFL is Cincinnati. #Bengals
about 15 hours ago

Espngreeny

Mike Greenberg


So, Jacksonville's plan of a redshirt season for Blake Bortles lasted to halftime of week three. #Jaguars
about 15 hours ago

Espngreeny

Mike Greenberg


Wow, #Lions shoot themselves in the foot again.
about 15 hours ago

Espngreeny

Mike Greenberg


So, upon further review, the #Jaguars still stink.
about 16 hours ago

Espngreeny

Mike Greenberg


Through ten quarters, #Patriots offense looks mighty ordinary.
about 16 hours ago

Espngreeny

Mike Greenberg


Not sure I've seen Tom Coughlin smile that wide in two years. #Giants
about 16 hours ago
NCAA TOURNAMENT BET PAYOFFS
Mike Greenberg completes the latest installment of the guys' bracket wager payoff. Photos


Watch: Greeny Milks a Cow


Watch: Greeny Gets Waxed


Watch: Greeny Competitively Eats


Watch: Greeny Sings Vanilla Ice

JAYSON STARK'S MLB TRIVIA
This season, Clayton Kershaw has struck out more than 200 hitters for the fifth time in his career. Only two other active pitchers have achieved at least five seasons with 200 strikeouts. Who are these players? Listen

BEST OF MIKE & MIKE ON ESPN RADIO: SHOW PREVIEW JULY 31, 2014