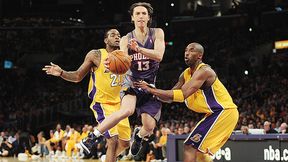 Harry How/Getty ImagesESPN NBA analyst Jalen Rose will break down Suns-Lakers.
Thursday, Greeny and Golic return back and better than ever in the Bristol, CT studios.
The guys will continue to break down the top stories in baseball with ESPN MLB analyst Tim Kurkjian (7:40 a.m. ET), Fox MLB analyst Tim McCarver (8:10 a.m.) and ESPN MLB analyst Buck Showalter (9:25 a.m.). Plus, ESPN NBA analyst Jalen Rose (8:25 a.m.) discusses the NBA playoffs.
You can get in touch with Mike & Mike by e-mailing the show (mikeandmike@espnradio.com), texting us at 73776 or tweeting us at twitter.com/GreenyAndGolic -- we'll be with you from 6 a.m. to 10 a.m. ET.

SportsCenter AllNight
1:00 a.m. - 6:00 a.m. ET
Listen


Updates |

Deportes

STONE COLD LEAD PIPE LOCKS
Espngreeny

Mike Greenberg


They've invaded my house. Seriously. Check @StacyGSG timeline.RT "@rothecoach: @ChicagoBears @StacyGSG Monday night will be interesting"
4 minutes ago

Espngreeny

Mike Greenberg


So, this happened.RT @ChicagoBears: @StacyGSG - As a Bears fan living with a Jets fan, some words of encouragement.https://t.co/xpJYgBYZso
13 minutes ago

MikeAndMike

Mike & Mike


The @realDonaldTrump discusses the NFL's off the field issues and his previous interest in buying the @buffalobills: http://t.co/7THgrPEFGG
about 8 hours ago

Espngreeny

Mike Greenberg


Just got home. Inexplicable things going on, involving my wife, and worse, my dog. #Bears week begins. They sent stuff. @StacyGSG has pics.
about 9 hours ago

bhofheimer_espn

bill hofheimer


Our @HermEdwardsESPN talks travel and more in this entertaining @Pursuitist interview (via @StacyGSG). http://t.co/UJVDNZOl83
about 11 hours ago

MGolicJR57

Mike Golic Jr


the second half of our Bye Week podcast is live! Check it out! @GolicNewmanPod http://t.co/fjl0T1fsfX
about 15 hours ago

MikeAndMike

Mike & Mike


Mike & Mike discuss the latest developments in the Adrian Peterson story and discuss with Jon Gruden & Adam Schefter: http://t.co/s7NGDchVDr
about 16 hours ago

Espngreeny

Mike Greenberg


What we have here is an embarrassing vacuum of leadership. #Vikings #Panthers #NFL
about 16 hours ago

MikeAndMike

Mike & Mike


STARK TRIVIA: Besides Kershaw, name the 2 active pitchers with at least 5 seasons of 200+ strikeouts.Thanks to #mobilsuper
about 20 hours ago

MikeAndMike

Mike & Mike


One of Americas best known businessmen, Donald Trump, joins the guys now on the state of the NFL - LISTEN LIVE -- > http://t.co/eKCR2pVKhF
about 21 hours ago

ijdb19

Ian Bridger


Preach it @Espngreeny....you're dead on this morning. #Vikings have handled the #Peterson situation horribly. Embarrassing
about 23 hours ago

Ryno716

Ryan Peterson


@Espngreeny I am a diehard Vikings and NFL fan and very disappointed in AP. That being said I will still watch the NFL
about 23 hours ago

HardYardsLA

HardYardsLA


@espngolic @Espngreeny Spot on take. NFL's moral compass only points to true money-not that they have a resp. 2do anything else,but b real..
about 23 hours ago

MikeAndMike

Mike & Mike


Tune in for the latest reaction to the Vikings placing Adrian Peterson on the exempt list --> LISTEN LIVE http://t.co/eKCR2pVKhF
about 23 hours ago

MikeAndMike

Mike & Mike


As seen on @SportsCenter, @NFLPA President Eric Winston discusses off the field issues & the new drug policy. Listen: http://t.co/YtIHUChefX
1 day ago

dariusrucker

Darius Rucker


It's about to be the most wonderful time of the year… I am so excited to finally make a Christmas album. Details: http://t.co/cODZ8fY7kW
1 day ago

MikeAndMike

Mike & Mike


REMINDER! Today at 9pm ET @jemelehill and @CariChampion will host a two hour @espnW Special on the state of the NFL on @espnradio.
1 day ago

ESPNNFL

NFL on ESPN


Here's @MikeandMike's #NFLRank top 5 QBs:1 Peyton Manning2 Aaron Rodgers 3 Tom Brady 4 Drew Brees5 Philip Rivers
1 day ago

espngolic

Mike Golic


RSVP to the #GiveHope Donate Profits Day at @Chilis! At least $100k on 9/22 will go to @StJude - http://t.co/Bsa2oImbDH
1 day ago

MikeAndMike

Mike & Mike


How the Eagles beat the Colts, the Vikings' mishandling of Adrian Peterson and visits w/ Jim Turner & Eric Winston: http://t.co/OX51mMms7L
1 day ago
NCAA TOURNAMENT BET PAYOFFS
Mike Greenberg completes the latest installment of the guys' bracket wager payoff. Photos


Watch: Greeny Milks a Cow


Watch: Greeny Gets Waxed


Watch: Greeny Competitively Eats


Watch: Greeny Sings Vanilla Ice

JAYSON STARK'S MLB TRIVIA
This season, Clayton Kershaw has struck out more than 200 hitters for the fifth time in his career. Only two other active pitchers have achieved at least five seasons with 200 strikeouts. Who are these players? Listen

BEST OF MIKE & MIKE ON ESPN RADIO: SHOW PREVIEW MAY 20, 2010