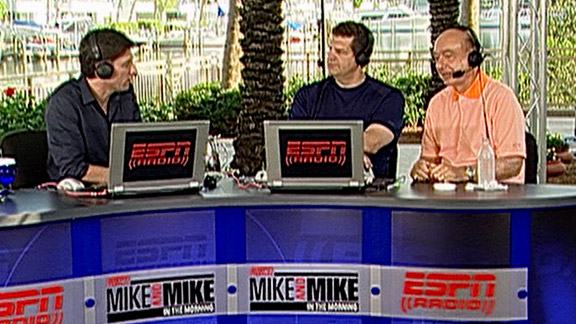 ESPN2Hall of Famer Dick Vitale joins Mike & Mike live on set.
Live from the Ritz-Carlton in Sarasota, Florida
• ESPN NFL analyst Mike Ditka says former Bears star Gale Sayers simply answered a question that he was asked honestly. The players on the Bears need to be worried about two things: Green Bay and Minnesota. Mike Ditka

• ESPN's Dick Vitale says we're giving way too much credit to William Wesley. No one is powerful enough to package LeBron James and a coach together and Kentucky coach John Calipari is not going anywhere. Dick Vitale

• ESPN NBA analyst Jalen Rose conveys the latest from "World Wide Wes" and previews the weekend's playoff games. Jalen Rose

• ESPN MLB insider Buster Olney says baseball players are just like football players in that they don't take criticism well either. Olney also points out that the Mets need to get their act together soon or they will face some big changes. Buster Olney

• ESPN NASCAR analyst Mike Massaro talks about the inaugural class of the NASCAR Hall of Fame as well as the All-Star race. Mike Massaro


The Freddie Coleman Show
10:00 p.m. - 1:00 a.m. ET
Listen


Updates |

Deportes

MIKE & MIKE'S 15TH ANNIVERSARY
The show is celebrating its 15th anniversary this year. You're invited to join the festivities. More »
MIKES & WIVES
The wives of Greeny and Golic, Stacy Greenberg and Christine Golic, join the guys to reflect on the past 15 years of "Mike & Mike." Listen

#GOLICBUTTPHOTO SHIRT
Muze Clothing has created a shirt featuring the infamous #GolicButtPhoto. All proceeds benefit the South Bend Center for the Homeless. More »
FRANK CALIENDO
Our favorite moments with Frank Caliendo:
-Watch: 'A Visit from St. Nicholas'


-Watch: William Shatner


-Listen: #GolicButtPhoto voicemails


-Watch: Donald Trump


-Listen: Trick-or-Treat


-Watch: Stephen A. Smith


-Watch: Mel Kiper Jr.


-Watch: Charles Barkley


-Watch: Allen Iverson's rant


-Watch: Remembering Robin Williams


-Watch: LeBron James' letter

BEST OF MIKE & MIKE ON ESPN RADIO: SHOW IN REVIEW MAY 21, 2010