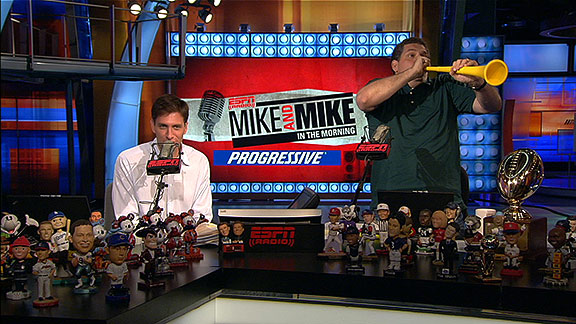 ESPN2Mike Golic celebrates a good show with a vuvuzela.
• ESPN golf analyst Andy North says the U.S. Open golf course was playing very difficult all week and it was very strange to see both Tiger Woods and Phil Mickelson do well one day and then not the next. Plus, North comments on winner Graeme McDowell. Andy North

• ESPN soccer analyst Alexi Lalas says calls in soccer are subjective to a certain extent but no matter what the referee made the wrong call in the U.S.-Slovenia game. Plus, Lalas breaks down more from the World Cup. Alexi Lalas

• ESPN MLB insider Buster Olney shares his thoughts on Astros pitcher Roy Oswalt, Mariners pitcher Cliff Lee and Nationals pitcher Stephen Strasburg. Buster Olney

• ESPN NFL analyst Cris Carter says Lakers guard Kobe Bryant is not better than Magic Johnson. We are still looking for the next Magic. Cris Carter

PODCASTS
A daily offering of the best of ESPN Radio's Mike and Mike.