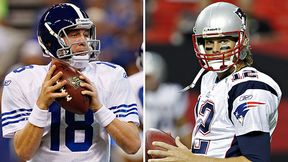 Getty ImagesIf your team doesn't have an elite QB, they are not heading to the Super Bowl.
The NFL preseason is winding down and hope springs eternal for the naive optimists out there. The truth is your team is probably going to be a huge disappointment and you'll be counting down the days until the NBA gets underway (actually judging by the ratings, most of you will be counting the days until pitchers and catchers report).
Allow me to quickly remove some of the uncertainty surrounding the upcoming NFL season. If your team does not have an elite quarterback, you are not going to the Super Bowl. And if you'd be happy with just getting to the divisional round, go stick your hand in a garbage disposal and get back to me when you really care about sports.
Here are the quarterbacks from the last six Super Bowls: Peyton Manning, Drew Brees, Ben Roethlisberger, Kurt Warner, Eli Manning, Tom Brady, Rex Grossman, Matt Hasselbeck and Donovan McNabb. Twelve teams, and only two of them had quarterbacks who weren't at the top of their game. That eliminates everyone in the NFL this year except the Colts, Saints, Packers, Vikings, Patriots, Texans, Cowboys and Chargers.
Also, I think I've had just about enough of all the love for the New York Jets, and especially QB Mark Sanchez. Don't get me wrong, I love "Hard Knocks" as much as the next guy, but do people realize just how little Sanchez was asked to do? The Jets threw the ball fewer times than anyone else in the league last year and he still led the AFC in interceptions! They aren't making the Super Bowl. I don't care how good that defense is.
Board operator Rob "Stats" Guerrera brings his trademark negativity every day to Mike & Mike in the Morning.