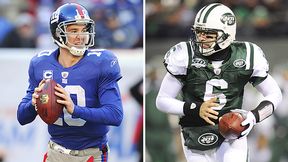 Icon SMIThere's only one New York QB you should be excited about and his name is Eli.
The 2010 NFL season starts Thursday and I just couldn't let that happen without offering some of my own thoughts on what to look for. These aren't all random thoughts. I get to talk to NFL insiders for 8 hours a day every day and I've had my head buried in fantasy magazines so much my wife forgot what I looked like. Without further adieu, here are my top ten expectations for the 2010 NFL season:
10. Dez Bryant will not make the Cowboys offense that much better. Bad news Cowboys fans. Since Randy Moss' amazing rookie year in 1998, no other receiver drafted in the first round has caught 10 TDs in their rookie year, and only one (Michael Clayton) has surpassed 1,000 yards receiving.
9. Frank Gore will continue to be the most productive runningback in football. Frank the Tank has gained more yards from scrimmage than any other player over the last four years (6,653 rushing and receiving). And the 49ers two first round picks this year? Both offensive lineman.
8. The running quarterback is dead. The best quarterbacks in the league are passers. In the last two years, Aaron Rodgers has 9 rushing touchdowns. That's more than Drew Brees, Peyton Manning, Tony Romo, Philip Rivers, Matt Schaub, Tom Brady and Eli Manning combined. No QB will have more than 3 rushing scores this year.
7. Go with the other New York quarterback. Eli Manning posted career highs in yards, touchdowns, completion percentage and passer rating last season. Mark Sanchez, on the other hand, threw the ball 48 less times than anyone else and still had 20 interceptions. Oh yeah, and 10 fumbles, too.
6. Roddy White will have the best year of any wide receiver in football. Over the last two years, only Andre Johnson has more receiving yards than White and Roddy has caught 43 percent of Atlanta's touchdown passes in that time. With Derek Anderson in Arizona and an unhappy Randy Moss in New England, the door is wide open for my boy. Unless Andre Johnson shuts me up.
5. Andre Johnson will probably shut me up. He's gone over 1,500 yards two years in a row (which has only been done by one other player) and since 2007 he has more yards than anyone. Did I mention he missed 7 games in '07? Oh and the guy throwing him the ball led the league in passing yards last year.
4. The Philadelphia Eagles will be lucky to go 9-7 this year. You know I'm all about the quarterbacks and the Eagles face great ones eight times this year and they have a first-year starter at quarterback and no running back to speak of. I said it once and I'll say it again, Eagles fans: You're going to miss Donovan McNabb ... except when he beats you twice this year.
3. Over the last 14 years, at least 5 new teams have made the playoffs every year. The five teams from last year that won't make it are the Cardinals, Eagles, Cowboys, Bengals and Jets. The five non-playoff teams from last year that will make it are the Redskins, Texans, Steelers, Falcons and 49ers.
2. Matt Schaub, Beanie Wells, Maurice Jones-Drew, Terrell Owens, Jeremy Maclin and Antonio Gates will all stink this year. How do I know this? Because I drafted them, that's how. The Madden curse has nothing on my fantasy curse. I had Michael Vick the year he broke his leg, Braylon Edwards the year after he caught 16 touchdowns (also known as the year he caught only 3), and Tom Brady the year he blew out his knee. Sell high, folks. Sell high.
1. Something bad will happen to my San Francisco 49ers this season. I only have one inescapable stat to back this one up: Greeny picked them to win the NFC Championship. Two years ago Greeny picked my Seattle Mariners to win the World Series. They lost 101 games. 'Nuff said.
Board operator Rob "Stats" Guerrera brings his trademark negativity every day to Mike & Mike in the Morning.