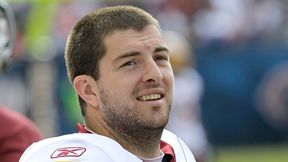 AP Photo/Charles Rex ArbogastDo not let this man put a helmet on.
I believe it was Will Ferrell in the movie, "Zoolander" who once said, "I feel like I'm taking crazy pills!" What the heck is going on in the NFL? Redskins coach Mike Shanahan decides to bench QB Donovan McNabb with two minutes to go in the fourth quarter because Rex Grossman has a better handle on the two-minute offense and McNabb doesn't have the cardiovascular endurance to go down the field. So, which would you rather be: dumb or fat? McNabb definitely has his flaws, but benching him at the most important part of the game to bring in the Human Turnover is the worst career move since Smash became Repo Man. You may have to Google it.
Not to be outdone on the crazy scale, Vikings coach Brad Childress gets rid of WR Randy Moss just 4 games after he gave up a third round pick to get him. This without even telling his boss, owner Zygi Wilf. Childress is getting hammered by everyone even remotely connected to the NFL and he should. The head coach of my favorite team (see Singletary, Mike) has done some ridiculous things this season, but nothing compares to this kind of incompetency. Four games?! Childress might as well have brought in a life-sized cardboard cutout of Moss. It would have been cheaper and probably would have played harder.
Throwing away a third round draft pick is inexcusable. I've said it a thousand times: If you want to see how a team goes from garbage to glory and back again, look at their drafts. Wonder how the 49ers could go from 10 wins almost every year in the 1990s to a dumpster fire in the 2000s? From 1995-2000 they drafted J.J. Stokes, Jim Druckenmiller, R.W. McQuarters, Reggie McGrew, and Julian Peterson in the first round. Peterson was the only guy that was any good in the whole bunch. What happened? The team went into the stinkpot. Here's a list of a few guys that have been drafted in the third round in the last decade: Justin Tuck, Lance Briggs, Jason Whitten, Steve Smith, Ronde Barber and Frank Gore. So if you're wondering how big of a deal losing that pick is, ask yourself if you'd trade Frank Gore to rent a player for four games.
Meanwhile the Cowboys stink, Steve Johnson has more receiving touchdowns than Terrell Owens and the Tampa Bay Buccaneers are the envy of the NFC. No wonder Greeny's Stone Cold Lead Pipe Locks picks are so bad -- you'd have better luck trying to get someone on "Jersey Shore" to read a book.
Two Quick Thoughts:
1) Many baseball fans are rejoicing over the fact that the final game of the World Series drew a better rating than the Monday Night Football game. Calm yourselves. A potential championship clinching game should rate higher than a random regular season game smack dab in the middle of the season. What the NFL had been doing up until that point would be like a July Mariners-Padres game outdrawing the Super Bowl.
2) I have no idea why people are ripping Rangers pitcher Cliff Lee for pitching to Giants SS Edgar Renteria. As if they all knew the 35-year-old with 135 home runs was going to hit a big fly. How about instead of intentionally walking him like everyone is suggesting, don't hang a waist-high meatball with two runners on? Ever think of that? Anyone in the Giants' lineup could have hit that thing out. That said, congrats to the Giants. At least one team in San Francisco plays like professionals.
Board operator Rob "Stats" Guerrera brings his trademark negativity every day to "Mike & Mike in the Morning."