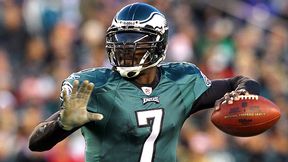 Jim McIsaac/Getty ImagesEagles QB Michael Vick had a performance for the ages against the Redskins.
After Michael Vick's amazing performance on Monday Night Football against the Redskins, many people want me to eat my words about Michael Vick. In case you forgot, I said even if he got back to his pre-jail form he wouldn't be any good.
The truth is that I wasn't wrong. The way he was playing with the Falcons wasn't good enough to have sustained success in the NFL. Fortunately for Vick and the Eagles, however, he's performing stratospheres above where he was in Atlanta.
He's completing passes almost 10% better than he ever has before. He's turning the ball over less than he ever has before. If you listen to guys like Steve Young and Trent Dilfer, he's reading defenses better than he ever has before. Who on God's green Earth saw this coming?
And before you shout at me from high atop Mount Righteous Indignation, I still remember what Vick did to dogs. Believe it or not, though, I can still point out his success on the football field without my judgment being clouded by the outrage I feel about his crimes.
The majority of sports fans don't really care about the dogfighting or about any off-field behavior. Here's how the sports fan thinks when it comes to players' actions off the field. A player you've heard of does something stupid. We immediately decide what we think the punishment should be. Then, he gets punished, and we discuss how much we agree or disagree with it. Eventually, the player gets back on the field. Once that happens, we think of him more or less like any other player. Don't believe me? Explain why Vick is owned in every single one of ESPN.com's fantasy football leagues. We get what we need to from him. For some people it's just fantasy points and for most people it's entertainment.
I'd also like to take this opportunity to say, "I told you so" to everyone that went on and on about how they'd never watch Vick or the NFL again. Over 15 million people watched the game on Monday, and the league is setting ratings records every week. You're all watching.
Don't get me wrong, I don't blame anyone for that. How could you not watch? Vick does things on the field that we've never seen anyone else do before and that's the very definition of why we watch sports. Most of us are squeezing sports in between a job, a significant other and family responsibilities. We really don't have time to limit our viewing based on a player's morality. All we want is entertainment and one thing you can always say about Michael Vick is that he's entertaining.
Board operator Rob "Stats" Guerrera brings his trademark negativity every day to "Mike & Mike in the Morning."