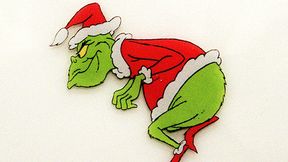 AP photoWho is the NFL's "Mr. Grinch?" Stats has the answer.
With the news the Redskins are telling Albert Haynesworth they're not going to touch him with a 39 and a half foot pole for the rest of the season, I couldn't help but notice other NFL storylines that were strikingly similar to some lyrics from well-known holiday specials:
Josh McDaniels showed everyone in Denver he's as charming as an eel. Insiders and analysts alike were criticizing the former coach's social skills the day he was canned and I remember hearing rumblings about friction within the organization as far back as last year's collapse. Personally, I had a feeling McDaniels' brain might be full of spiders after he traded up to draft Tim Tebow in the first round last year. Of the four famous Bill Belichick assistants (Charlie Weis, Romeo Crennel, Eric Mangini and McDaniels), none have had success away from the King of Sinful Sots.
The Cincinnati Bengals are clearly the Island of Misfit Toys. Despite excellent career numbers, Terrell Owens has played like the spotted elephant, Chad Ochocinco has been an ostrich-riding cowboy and Carson Palmer is the train with square wheels on its caboose. Heck, even coach Marvin Lewis is the bird that swims -- and he's barely keeping his head above water.
My 49ers have gone from Alex Smith to Troy Smith back to Alex Smith at quarterback, and at this point I have to admit I'd rather see a seasick crocodile under center for San Francisco. Our QB situation has been a three-decker sauerkraut and toadstool sandwich with arsenic sauce ever since Jeff Garcia left and I don't know how much more my dead tomato heart can stand. My kingdom for a playoff berth, even if it is at 7-9.
Oh, and by the way, if you really think the NFLPA delaying their collusion suit against the owners is a sign that the league will avoid a work stoppage in 2011, you're as naive as Cindy Lou Who. The NFL is going to give some ticket holders their money back for cancelled games and the owners still get cash from their new TV deals even if there's no football. Anyone talking about a new CBA is selling you a bad banana with a greasy black peel. Wake up and smell the nauseous super naus.
Finally, on Peyton Manning's last three games: Stink, stank, stunk.
Board operator Rob "Stats" Guerrera brings his trademark negativity every day to "Mike & Mike in the Morning."