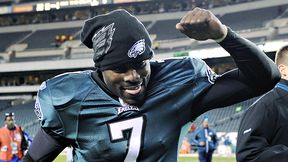 Barbara Johnston/US PresswireStats says Michael Vick deserves the NFL MVP.
The Battle for the NFL MVP
Right now, there are only two people in the National Football League with a legitimate claim to the title of Most Valuable Player: Tom Brady and Michael Vick. While it's a close race that I believe ultimately will come down to the final week of the season, I'm giving the award to Michael Vick.
I've generally received two responses from people after hearing that and both make blood shoot straight out of my eyes. The first response is that Vick can never win the MVP because he committed crimes and went to prison. The second is that Vick has to win the MVP because he went to prison.
If you're one of the people that feels either of those two ways, read the following sentence slowly: None. Of. That. Matters. Period.
If by some miracle you happen to have a vote for the MVP and you're reading this blog, snap out of it. You're a football writer, not a moralist. You're not saving the whales with your vote.
Give the vote to Vick because he deserves it. Give it to him because he's averaging 306 total yards per game while Brady is only averaging 255. Give it to him because (as of now) he's scored only 4 less touchdowns than Brady and he's played in 3 less games. And for all those complaining about the fact that he won't start every game this year, pipe down. Merely showing up for an entire season doesn't entitle you to anything except a gold star for perfect attendance. Just this year, Josh Hamilton won the American League MVP and he missed the most critical 30 games of the season and I didn't hear any outrage then, so I'm not going to listen to any now. Don't go changing the criteria because one guy is Captain America and the other is an ex-con.
You Get What You've Earned
Many of you are going to assume I'm writing this because I'm a 49ers fan, but I would hope you'd give me the benefit of the doubt by now. Objectively speaking, the winner of the NFC West this year deserves to host a playoff game just as much as any other division winner.
All I've heard all season long is fans of other teams whining about how they're going to miss the playoffs and the (insert NFC West team here) are going to host a playoff game. My response? Win more games. Upset that Aaron Rodgers and the Packers could be watching the playoffs from their couches? Too bad. Try not losing to the Lions, Redskins and Dolphins (who have a combined 16-26 record), or flushing 19 seconds down the toilet late in the 4th quarter against the Patriots.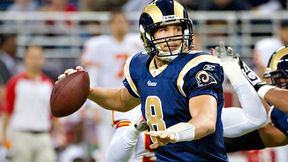 Scott Rovak/US PresswireSam Bradford and the Rams could represent the NFC West in the playoffs.
Angry about Eli Manning and the Giants possibly having to watch Sam Bradford and the Rams on wildcard weekend? A win against Tennessee would have helped, not to mention not giving up 28 points in just over 7 minutes against the Eagles in Week 15.
As long as there are divisions, you have to let each division winner host a playoff game. Now, if you want to get rid of the divisions and just take the best six teams, that's a different argument. The bottom line is that some team in the West will be better than every other team in their division and that has to mean something.
What's the big deal anyway? If the team is as bad as we think they are, they'll be out after one game. If they're not and they actually win a game or two in the playoffs, they'll have proven they belonged in the first place. Stop overreacting to one flukey year and stop trying to make everything in life have a happy ending. Sometimes life just throws you a 7-9 kind of year. Good thing there's football next year. Oh ... wait.
Board operator Rob "Stats" Guerrera brings his trademark negativity every day to "Mike & Mike in the Morning."