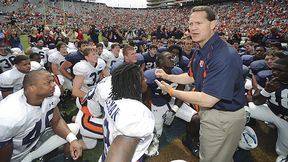 AP Photo/Todd J. Van EmstAuburn coach Gene Chizik will be a guest on the show.
Wednesday morning, Doug Gottlieb and Tim Hasselbeck will host from the Bristol, CT studios on ESPN Radio, ESPNRadio.com and ESPN2.
ESPN NFL insider Adam Schefter (7:30 a.m.), Auburn coach Gene Chizik (8:30 a.m.) and ESPN NFL insider Chris Mortensen (8:45 a.m.) will join the show.
You can get in touch with Mike & Mike by e-mailing (mikeandmike@espnradio.com), texting to 73776 or tweeting to the guys at twitter.com/MikeAndMike -- we'll be with you from 6 a.m. to 10 a.m. ET.

The Dan Le Batard Show
4:00 p.m. - 7:00 p.m. ET
Listen


Updates |

Deportes

NCAA TOURNAMENT BET PAYOFFS
Mike Greenberg completes the latest installment of the guys' bracket wager payoff. Photos


Watch: Greeny Milks a Cow


Watch: Greeny Gets Waxed


Watch: Greeny Competitively Eats


Watch: Greeny Sings Vanilla Ice

JAYSON STARK'S MLB TRIVIA
Cy Young teammates Greg Maddux and Tom Glavine will enter the Baseball Hall of Fame together. Three pairs of current teammates have won MVP awards. Who are the players? Listen

BEST OF MIKE & MIKE ON ESPN RADIO: SHOW PREVIEW DECEMBER 29, 2010